(A really big fish: as seen from above in the underwater tunnel, at the bottom of the four-story rainforest).
California Academy of Sciences
Press Preview Day
Thursday, Sept. 18, 2008
Words and photos by Jennifer Maerz
Better than: Staring at a leopard-spotted eel with 50,000 other people.
California Academy of Sciences designer Renzo Piano sees most museums as "kingdoms of darkness," our tour guide was explaining, standing next to the Cal Academy's "living roof." What he meant by that statement was that most museums have to block out the world to protect the art inside. But in a living museum like this one, light streams in from every angle and creatures of every size swim, fly, slither, and float in one of the hands-down most amazing science museums I've ever visited.
Of course, Cal Academy isn't just a science museum. It has an aquarium, a planetarium, a natural history museum, a rooftop garden, a four-story rainforest, a library, and a lot of other things I don't have the space or time to list here. But the best asset this revamped venue has in its favor is it feels like a modern monument in every sense of the word.
First there's the concept that everything is growing together. The foliage in the four-story rainforest (housed in a bubble dome, where you can take a glass elevator from the canopy down underwater where the piranhas live) will stretch and arch its way around its huge space, changing over time. The 2,000 types of living creatures in the coral reef will one day number 3,000, at which time Cal Academy will be farming out the life it has incubated to other museums. The roof, planted with all kinds of native plant species, will change and grow like any well-tended garden.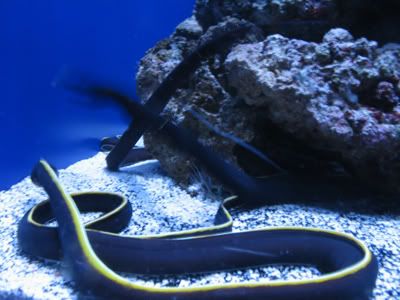 The idea behind this gigantic space, explained executive director Gregory Farrington to the 150 or so press people gathered for yesterday's media preview, is to look at life from two general angles: how did we get here, and how can we find a way stay? To that end, the museum is green in more than foliage. A number of the exhibits are interactive ways to understand human impact on the environments around us, and from the science labs to the "science in the media" section of the great hall to the planetarium's look at our crowded planet, the message is one of understanding our way to co-existing with other creatures.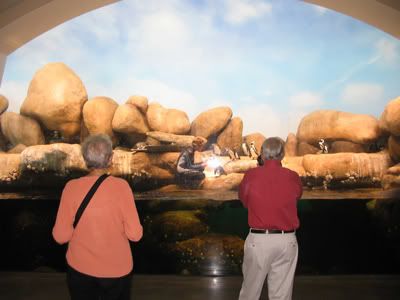 But even if you put aside the important science lessons for a minute, Cal Academy is an impressive space. The glass structure, and the giant glass globes worked into the ceiling, make this place the antithesis of a "kingdom of darkness."
Even more exciting, though, is the number of angles from which you can view the fish, frogs, penguins, jellyfish, alligators, spiders, snakes, coral, birds, bats, ants, lizards, etc. roaming around their new habitat. Some are allowed to fly around free in encased areas: like the colorful little birds and butterflies in the rainforest dome. The sea creatures can be seen from giant aquarium viewing spaces and smaller areas carved into the walls. No matter where you're staring at them from, however, the curved glass makes you feel like you're standing right next to the fish. Yesterday I gawked nose to snout with an eel that was pressing itself up to its end of the barrier between us. Pretty cool feeling.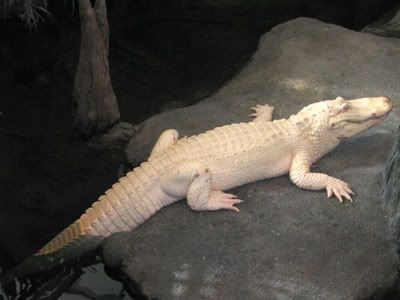 Farrington explained that Cal Academy doesn't have "iconic attractions", by which I take him to mean that there are no, say, giant sharks, or cute little otters, in this new space. But there's plenty to look at, from the albino alligator that's been with Cal Academy for 13 years, or the 100 pound, nearly 30 year old sea bass. Farrington's comment put emphasis on the Academy's display of preserving communities as a unit (its coral reef exhibit, for example, is the largest indoor live coral reef display in the world).
There's so much to see here, and in such detail, that I can imagine coming back on many a rainy Sunday just to wander and stare at the over 38,000 different types of life on display here. My one wish is that they'd someday open that planetarium into a laser light theater as well (think about it: contemporary space rock and lasers overhead, or you could even soundtrack it to the videos of the galaxies.) But that's more of a personal fantasy than a complaint really.
The Cal Academy is getting a lot of hype, but after taking the preview tour, I say it's all worth it. It's really cool to have this bright, progressive, living museum within our city limits. It's even open to the public for free coming up: on Saturday, Sept. 27, Cal Academy will be open from 8:30 a.m. to 9 p.m. With one estimate at 50,000 people lining up for entry on that day, though, you may be better off waiting a little bit for the crowds to thin just a bit.
For additional images: Check out the slide show here.