Notes by Scott James; Photos by Aled Ordu
As I approached City Hall I heard chanting give way to a single, microphone-amplified voice. It turned out to be the voice of a San Francisco High School student addressing a large group of students and teachers on the front steps of the city's central governing building. The crowd was accented by R.I.P. signs, peace banners and shirts with slogans like, "It takes the hood to save the hood," and "Invest in Protection: More police doesn't equal less violence."
A estimated 500 students and supporters gathered to bring attention to San Francisco's recent surge in violent murders Friday, calling for dialogue, solutions and peace. The crowd brought special attention to the killings of Jorge Hurtado and Josh Campbell, both students of the June Jordan School for Equity on La Grande Avenue. The school itself is focused on community, social justice and independent thinking and organized today's rally, so in a large sense it was both an extension of their curriculum and a case of tragic irony.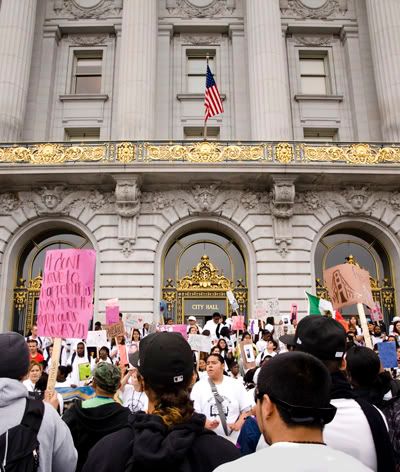 The crowd was disciplined and goal oriented. Where there could have been ranting there was clarity. Where there could have been rambling there was focus. Student representatives spoke in concise, 2-3 minute speeches on topics from media misrepresentation of the murdered students to what would be effective community reactions. At the core of their message was a plea for the community to see that Campbell and Hurtado were not associated with gangs, and were in fact outspoken about gang alternatives, yet were still killed. Edgar Velazquez, a 17 year old senior at June Jordan, said, "They weren't gang-bangers, they weren't gang-affiliated. They were students committed to make a change."
The speakers each returned to a call for City Hall officials to sit down and talk with community members and find solutions that work. As representatives spoke, others distributed fliers outlining 3 major problems: schools not serving their real populations, a lack of youth services and opportunities, and inadequate police response to community needs. With earnest sincerity, the flyer also outlined both long term solutions and immediate recommendations that the students and teachers wanted from City Hall.
Velazquez says that the situation is dire for teens downtown. "There are no choices. Sometimes people don't even feel safe at home. They don't have an alternative. If they cannot go home, they cannot stay at school, they just stay on the streets because there are no other options." When I asked him what he would like to see as a reaction from Newsom's office he said, "That they are going to sit with us at a table to talk about violence. They also have ideas, and I want to hear them as well."
I continued to move through the crowd as it flowed from speech to chant and back again. At intervals, someone would cry out in anger, to which a student speaker would respond, "No, we are here for peace," and the crowd would quiet. As I looked up from interviewing Heather Clements, a teacher at June Jordan, I heard a speaker say, "They are shooting down the heroes of the next generation and people have the audacity to call them thugs," to a resounding thunder of applause. Clements added, "This was a senseless killing that cannot be chalked up to a case of mistaken identity, which is what the media is saying. Today is really about role modeling positive reactions for kids."
I walked across the street to speak with Captain Casciato of the SF Police Department. We talked about the issues and the continuing struggle to do something about them. When I asked why this continues to happen, Casciato implied that the community members who had information about crimes are often unable to come forward. "The code of silence is really a code of fear," he said. "We can arrest people, but then they go to the DA, the criminal justice system. The actions those organizations take determine what kind of trust the people have for those systems. If something goes to trial and somebody gets off on a technicality, the families are harassed and that makes everyone afraid to speak up."
Returning to the group as three students led the crowd in "We Shall Overcome," I heard someone in the crowd say, "The whole city has this sort of attitude that, 'Oh, well, there's another young man of color shot' how are they going to feel safe? How are they going to feel like they can walk around?"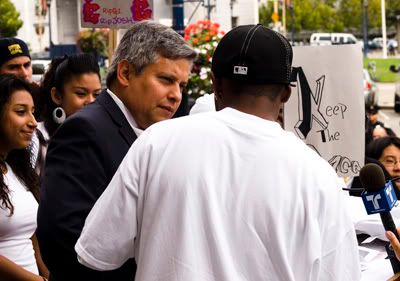 I wondered what the ideal response from the city would be. Velazquez said, "We are here today because we want to find a solution. I don't want to get shot on my way home." Clements offered a more specific answer, saying, "More things for kids to do with themselves and other ways to make money. Also, more attention to these killings. I would like to see Gavin Newsom push harder on solving crimes like these. If this was a white woman, a white child, someone from a certain income there would be more attention."
Later, several county supervisors took to the podium, expressing their concern and backing for the issues. Supervisor Gerardo Sandoval expressed his support, and closed by saying, "If I don't get your money you'll be back next month, right?" to a round of applause from the crowd. Supervisor Tom Ammiano also spoke in solidarity with the student demands. At one point he claimed, "My door is open and my stamp is at your disposal." When a voice in the audience replied by yelling, "Bullshit!" the supervisor replied, "No, young lady, that's not bullshit...money talks and bullshit walks." The crowd erupted.
I also spoke to Jaylani Roberts, sister of Josh Cameron. "He was a good kid and he was a peacemaker," she said. In another tragic irony, Jaylani was taking today off from her film project, a film about gang violence.
In the end, the rally was peaceful, focused, and organized. Hundreds of students and protesters, making organized noise, focused their pain and loss on a need for solutions and peace. I walked away moved and wondering: Will it matter?
As I prepared to leave and students boarded chartered buses back to school, a lone girl weaved through the waning crowd, repeating into a megaphone: "No Justice – No Peace. We're taking over the streets." In the coming weeks, we'll see if she's right and we'll see if anyone at City Hall is listening.