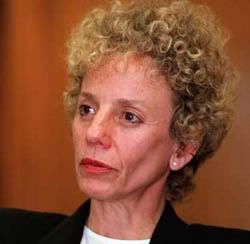 By Will Harper
The Sacramento Bee is reporting that state Sen. Carole Migden's staff in Sacramento was sent home yesterday "after the San Francisco Democrat was heard berating them from the hallway."
Migden told the Bee "they weren't sent home," but didn't elaborate, probably because an aide for Senate Prez Don Perata was standing by telling her she didn't have to comment.
"On Friday," the Bee's story says, "none of Migden's regular aides reported to work in the Capitol. Her office was staffed by temporary workers from the Senate Rules Committee."
News of Migden meltdown shouldn't come to a surprise to anyone. Readers probably remember her strange behavior after rear-ending someone in her SUV --when confronted by the other driver, she reportedly replied "I'm a senator"-- and how she sneakily pushed a Republican lawmaker's "yes" voting button on a bill he opposed.
But she also is famous for going off on her staff. As one former Migden aide told me, there were just some days when her staff could tell she was going to erupt: "She'd be screaming, crazy and irrational--basically, losing her shit."
Photo: blogs.latimes.com