By Benjamin Wachs
How stupid is this? I actually thought that the biggest scandal of the year would be the 2008 Civil Grand Jury Report "Accountability in San Francisco Government."
Instead, so far as I can tell, not a single other media outlet has written about it. Not one. And definitely not the big dogs: the Chron, the Examiner, the Guardian, BeyondChron, or any of the tiny blogs scurrying around the city like rats on a sinking ship.
Which amazes me because THIS REPORT is what explains, in painful detail, why our ship is sinking. But, I dunno, I guess that's not important. Maybe people are having sex somewhere or something.
The problems identified by the Civil Grand Jury –I've included a highlight list below– are incredibly bad. Basically no one is held accountable in this city for actually doing their job. Which means... are you paying attention you short attention-spanned blockheads?
...that even if we have good ideas in city government, they'll never get implemented, because the people responsible for implementing them never get punished for incompetence.
Sure, this isn't a sexy issue – but it's way more important than the crap you "activists" are out there protesting every day. Because you'll NEVER get the government to solve anything if the government is incompetent!
Save all the health care jobs you want – it won't matter if the government can't get around to hiring people.
Pass non-discrimination laws – it doesn't count for squat if the government never enforces anything.
Fund public housing projects...go crazy! A government this incompetent will never be able to follow through. All your good deeds will be stuck half-built, over budget, and so toxic that even artists will take a pass.
Anyone who wants to solve anything needs to start here.
But they won't – YOU won't – because at some point FEELING like you're making a difference became more important than actually doing anything.
It reminds me of a speech I heard Dick Gregory make a long time ago, about how...look...aliens never landed in Roswell, okay? Never happened. But somehow we've got all these millions of people out there screaming all the time about government conspiracies to obstruct the truth.
On the other hand, you have actual proof – real evidence – that operation COINTELPRO back in the 70s really was a massive effort to spy on politically active Americans, trump up charges against them, and obstruct the truth. It really happened, we know it, and can prove it.
But where are the conventions? Where are the movies? Where's the memorabilia? People would rather spend all their time and money uncovering bogus conspiracies when there's a real one sitting on a dusty shelf.
Same deal here, I suppose: the best possible thing we could do for our environment, for our poor, our disenfranchised, and our minorities, would be for the city government to get its house in order so that it can plan well and implement plans.
But nobody's pushing for that, and nobody ever will.
Enjoy the government we deserve.
Accountability in San Francisco Government – greatest hits: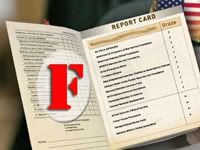 Point 1. City commissions and departments are required to prepare annual reports describing what they've done over the last year. Neither the Mayor's office nor the Board of Supervisors has any process in place to ensure that they do so, or a process to make sure anyone reads the things. In fact, so far as the Jury could tell, no one ever does read the things, meaning that nobody's actually evaluating how city commissions and departments are performing..
How bad does that get? The Committee on Information Technology stopped meeting at all from 2002 until 2006. The result? At a time when the city was spending hundreds of millions of dollars on information technology each year, no one was bothering to determine whether the technology was needed, redundant, effective, or useful in the big picture. If even a 5% improvement in efficiency could have been made, that would have saved almost $5 million in one year alone. D'oh.
That committee was since reorganized for more accountability. But, guess what? It's been over a year's time, and the chair of the committee still hasn't reported on how the reorganization is going.
2. Nobody ever checks to see if the controller's estimates of the cost of ballot measures were in fact accurate – and so we have no idea how accurate their estimations tend to be, or if there are better models out there for estimating costs.
There are also documented instances of the controller simply failing to answer questions given to it by the Board of Supervisors. Apparently there were more important things to do.
3. The Civil Grand Jury couldn't even FIND updated budget updates for the $100 million-plus Branch Library Improvement Program. As of 2007 it was 39% over budget. Now? There's no telling, because whoever knows isn't telling. Further, the exact scope of the project – what all this money is supposed to do – is described differently in different city documents: they disagree on this as basic as the number of facilities to be renovated and where they are located.
To cover their asses, the city put a $50 million new bond measure up to support the BLIP program – which we passed. Would we have needed to spend that money at all if there had been better management? Would we have approved the funds if we'd known they were needed because of incompetent management?
The DPW was put in charge of this project, and was also doing work on it. But it never worked out an agreement with the libraries for how much it would charge for its work, or even what it would do. Nor, according to the jury report, is even clear what they did – but the library got stuck with the bill anyway. There's no way to know if the costs are legitimate.
Meanwhile, we're not even getting our libraries. The Bayview branch was supposed to reopen in 2006 – but by 2007 the scope of the renovations hadn't even been determined yet. They still don't know, but are projecting an opening date of July 2010. Hah.
As far as we know, no one has been disciplined – let alone fired – for these catastrophic failures.
4. And the new residential care facility at Laguna Honda Hospital funded by bonds in 2000? That's just as bad – right now they're building a third fewer beds than they promised the voters – and it will still cost almost over half-again what the voters authorized.
Again, nobody's being held responsible – which means it will happen again.
5. Every time the Mayor's office comes out with a new accountability initiative, it falls short. Despite everything listed above, the mayor's 2007 "accountability index" gave Laguna hospital a clean bill of health. It never mentions that it will be missing a third of its beds.
As we now prepare for an $850 million bond for San Francisco General Hospital "the Jury is skeptical that key lessons have been learned."
The BLIP program likewise got a clean bill of health by the Mayor's "accountability index."
6. The city's website, touted as the next step towards transparency in government, is astonishingly unhelpful. This comes as no surprise to those of us who use it regularly, but the Jury's findings still need to be read to be believed.
"Search results often cannot be isolated b topic...when sorted by relevance, entries are in random order, while results sorted by date are not reliably listed in either ascending or descending date order. One single document is listed more than a dozen times as a search result without highlighting the relevant key words or search terms; it is impossible to tell how the document might be relevant."
Yep. Been there.