Notes and Photos by Janine Kahn
Sunday: Pistahan 2008
The weekend's Philippine festival was a godsend for those of us starved for a piece of the motherland - especially if that piece was lechon kawali (pan-roasted pork). Pictured: Pinoy shirts featuring hero Jose Rizal next to Adidas-turned-adobo.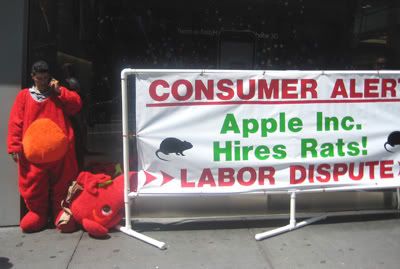 Monday: Rats at Apple
The two-legged kind, according to these protesters from the Carpenters Union who spent most of Monday morning outside Apple's downtown location. "Community Alert: Apple Inc. has hired South Bay Construction and procured a lot of work from Apple as a Union Contractor. And now they have terminated their agreement with the Carpenters Union and turned their back on workers and the community! Shame on you!" read the neon green pamphlets they passed out.
Tuesday: The big top goes up
Circus Vargas is in town - right across the street from the SF Weekly office. Here's the big top's transformation from my window.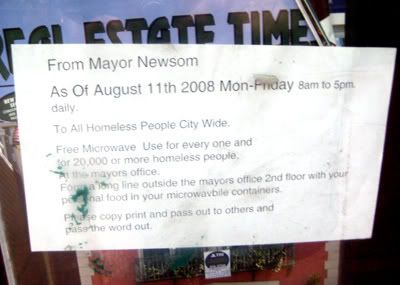 Wednesday: The mayor's office is now open
...for all your microwave lunching needs. Who knew?
Thursday: Sea creature dead on Market
Julio Vasconcellos shares this sad scene with us. Somehow this manta ray (or whatever ray our readers decided it was) ended up high and dry on Market Street. It's debatable whether the creature arrived at the scene dead or alive. Either way the image of such a beautiful creature baking in the concrete jungle tears at our heartstrings.
Friday: Bigfoot fakery
Does this look like legit Bigfoot evidence to you? Our Andy Wright took the train down to Palo Alto for a much-anticipated press conference and was disappointed. See more photos from the event here.