By Lauren Smiley
Protestors chanted "No more 'retard'!" and "We are people first!" outside the AMC Lowes Metreon 16 movie theater this morning, just in time for the 12:10 screening of "Tropic Thunder," the comedy directed by Ben Stiller and produced by DreamWorks Pictures that opens today.
Just as the horizontally-challenged protested the 2001 comedy, "Shallow Hal," in which Gwyneth Paltrow wore a fat suit to play a morbidly obese woman, groups for people with mental disabilities across the country are now targeting 'Thunder," a satire of the movie industry.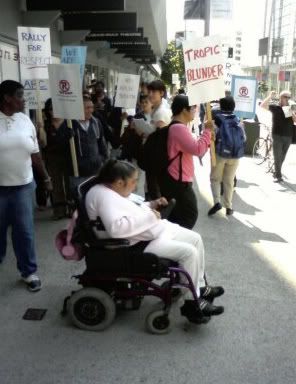 The comedy features Ben Stiller playing an actor who had formerly played the role of Simple Jack, a man with a developmental disability. The movie uses the word "retard" throughout, and includes one character explaining how to "Never go full retard" to win an Oscar. Movie critics have said the movie was meant to poke fun of actors who take on roles of disabled people in hopes of snatching Hollywood's top honor — not people with disabilities themselves.
But disabled rights advocates are not amused. "Never go full retard" T-shirts are already available on eBay, and Arc Director Timothy Hornbecker said it's only reinforcing what he says is a demeaning word: "Our people get bullied so much as it is in special ed, this is a step backwards...It's not just the use of the word 'retard,' but the demeaning depiction."
In response to complaints, DreamWorks pulled down a Web site that included the film-within-a-film with the line "Once there was a retard," according to the Associated Press. But a studio spokesman said no changes to the actual movie had been made.
Hornbecker held up the megaphone to one protestor with disabilities, one of the some-25 picketers he said had all chosen to be there:
"What do you think they called Ray when he was in school?"
"Ray-tard!"
"And how'd that make you feel?"
"It pissed me off!"
And the prize for the most witty protest sign goes to... "Tropic Blunder."