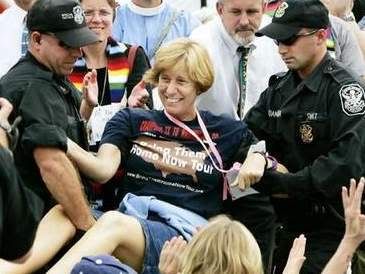 By John Geluardi
It looks as though Independent Congressional candidate Cindy Sheehan has collected enough signatures to challenge House Speaker Nancy Pelosi on November's ballot.
Sheehan submitted 13,300 signatures to the California Department of Elections, which is about 30 percent more than the 10,198 required to qualify for the ballot and certification will just be a formality, according to campaign workers.
"We found that a lot of people are upset about Nancy Pelosi funding the war," says Sheehan who collected many of the signatures herself. "People also want to see more Democracy, more choice and more debate."
Also in the race for Congressional District number 8, which covers most of San Francisco, is Libertarian candidate Philip Berg and Republican Dana Walsh.
Sheehan founded the Gold Star Families for Peace after her 24-year-old son Casey was killed while serving in Iraq. She gained national media attention in 2005 when she set up camp outside President George Bush's home in Crawford, Texas to protest the war.
"Now that we have the signatures, we can start the campaign in earnest," Sheehan says.
"And it's pretty safe to assume the first thing I'm going to do once we received certification is challenge Nancy Pelosi to a debate."