Tobias Wolff at the SF LGBT Community Center
San Francisco LGBT Community Center (Market St.)
July 29, 2008
Notes and Photos by Edward Paik
Tobias Wolff has around 10 days to convince Iowa. He knows that if he can't help spread word of Barack Obama, the senator will have little chance for serious contention in the coming democratic caucus, let alone the primaries.
So the civil rights lawyer and professor from University of Pennsylvania tours the state, speaking on behalf of Mr. Obama's (and his own) stance on lesbian, gay, bisexual and transgender issues, in his capacity as the then-Democratic contender's chief policy adviser.
Seven months later he'll remember these events and retell his story on a Tuesday evening at the San Francisco LGBT Community Center, but for now Wolff is on his way to Sioux City from Des Moines, a three-hour drive.
Headed to the northwest corner of Iowa, near the South Dakota border, Wolff asks a companion and Sioux City campaign staffer the question he always asks before visiting new communities.
"Tell me, what are the LGBT issues are and what people are talking about in this area?" he asked. "Tell me what is it that folks [there] care about? What do they want to hear?"
Wolff remembers the response till this day.
"'You have to understand Sioux City is not the same kind of environment where the LGBT community has a voice,'" the staffer said, according to Wolff. "'The only thing I can tell you that I've heard people talk about is a hate crime that was committed a couple years ago.'"
That was the unifying discussion concerning the LGBT community in Sioux City, Wolff would say. But the state-at-large was undergoing an "incredibly exciting time." On Aug. 31 Sean Fritz and Tim McQuillian, both students at Iowa State University, were the first same-sex couple to be legally wed after Polk County Judge Robert Hanson temporarily legalized such unions.
Anti-discrimination and marriage equality laws have since been passed.
A few weeks before the Iowa caucuses, Wolff would be asked to contribute a brief concerning marriage equality in Iowa, to be presented to the state's supreme court. He informed a couple of senior staffers in Obama's campaign of his plans.
"I'm not asking for your permission, I'm going to write this," he told them. "I just want to give you a heads up."
The response was congratulatory.
"'Frankly, we believe a good presidential candidate has advisers who disagree with him on some issues,'" said a senior staffer, according to Wolff. "That, for me, was the best response," he'd recall, and the reason he was campaigning for Obama. (Obama endorses civil unions, but not gay marriages - the only stance of his Wolff disagrees with.)
As for Sioux City, five people showed at the meeting Wolff was driving to. But the importance of those five, he says, was as great as 500. He spoke as he would seven months later to a crowd of under 50 people, about Obama's commitment to LGBT equality, his own views of sexual orientation versus gender in court rulings and that seeking equality would mean understanding the sources of discrimination.
Some came already in support of Obama, others were close, but Wolff felt futility in his reach. There wasn't a sense of how they could make a difference here, he recalls.
"The LGBT community is often sort of an underground network of folks who are off the screen, who don't always identify themselves publicly," he said. "But you know who they are and you can reach them."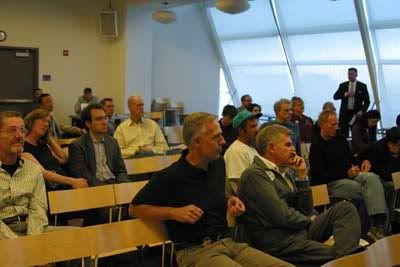 Wolff firmly believes that those gathered knew the community in a way an outsider like him never could, or the way a campaign could get access to a population like Des Moines. So he asks a favor.
"We want each of you to take responsibility in reaching out to ten of the friends and acquaintances that you have in your 'off-the-radar' folks," Wolff requests. He would like for them to elect Obama, but he would rather have presidential campaign strategists realize that to win in Iowa would mean making LGBT issues a priority.
He leaves behind a roll of Obama stickers.
On the night of the caucus, Wolff received a phone call from a staffer in Sioux City. It turns out that a noticeable number from the LGBT community came to a local precinct -- all were wearing those stickers. "It wasn't me who did it, I just pointed out the opportunity to empower themselves," Wolff would say.
Obama won that caucus with 38 percent of voters. The moment for Wolff was one of hope, a "game-changing" experience to which he can recall today under 10 minutes. "If I accomplish nothing else in this entire experience, that will always be my most cherished memory."