Of all the fashion genuflection performed by bi-coastal hep-cats, none's more baffling than the adoration of all things Nihon Jitensha Shinkōkai, the name of an obscure industrial council responsible for certifying special bicycle parts used in keirin, a racetrack betting industry in Japan.
This week the BBC appears to have given sense to this fashion mystery by implicating the Japanese keirin industry in an alleged Olympic bribery scheme. San Francisco's hep-cats may achieve what had been otherwise unobtainable to this skinny, white, poindexter-glasses-wearing crowd: outlaw street cred…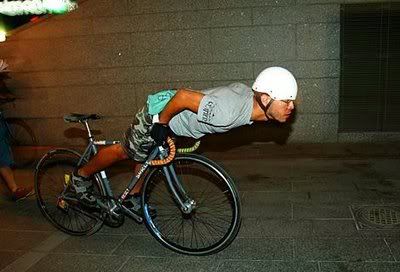 To join the coolest of the cool in the Mission District, it's not enough to ride a dangerous, uncomfortable, slow, awkward, brakeless, single-speed, fixed-gear track bicycle unintended for street use.
To be Mission über hep, its necessary to ride track bikes whose every component is separately stamped "NJS," signifying they're approved for use in keirin, a Japanese betting spectacle where riders pace behind a motorcycle before dashing to the line.
The SF NJS parts fad has nothing to do with actually riding, or even understanding keirin.
Nor does the NJS stamp signify high technology, lightness, finish, sturdiness, style or any other quality beyond having gone through a bureacratic certification process for use in keirin. Only a limited number of cranksets, hubs, frames, chains, cogs, rims, handlebars and stems are produced bearing the NJS stamp, because, well, only so many bicycles are necessary to run a highly-specialized Japanese betting race circuit.
This circumstantial scarcity means that an NJS-approved track bike built by, say, Yoshiaki Nagasawa and hung with parts by Sugino, Suzue, Nitto, HKK, and Hatta, etc. can cost more than $5,000, while enjoying no functional superiority to a Taiwanese IRO Mark V costing $500 or so.
The question was begged:
Until probers at the BBC entered the fray Sunday.
The British news agency released a report alleging Japanese keirin organizers bribed their way into the Olympic games.
There's no telling how keirin's new status as an Olympic sport will play with the Mission NJS set. Many Mission hep-cats were beat up by athletes in high school, after all.
But there's no denying the potential of international criminal conspiracy to give meaning to a fashion scene gone adrift. -Matt Smith