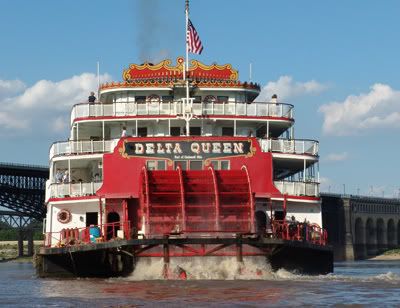 By Alex Brant-Zawadzki
One of San Francisco's finest, proudest and earliest queens may soon be laid to rest for fear it might become too flaming.
The Delta Queen, currently steaming up and down the Mississippi, is "America's last proper paddle-wheeled steamboat," according to an Economist article lamenting the ship's potential demise. The Queen was ordered in 1924, built in Scotland then sent to Stockton in pieces in 1926, where the California Transportation Company ran it between Sacramento, Stockton and San Francisco. During World War II the ship was requisitioned for Navy duty, serving as both a floating barrack as well as a ferry in the San Francisco Bay.
How the ship found its way from San Francisco to the mighty Mississippi? The answer can be found at Save The Delta Queen, a group which has sprung up to save the superstructure. From an Open Letter to Congress as posted on the site:
Dear Members of Congress,

My name is Charles Greene. My dad, Robert Greene, was ferried off to his WWII troop ship in San Francisco Bay aboard the Delta Queen, which then returned loaded with wounded troops. My dad came back from the war. Far too many did not.

In 1947, my grandfather's cousin, Tom Greene, bought the Delta Queen, had her towed from California to Cincinnati, and put her into operation carrying passengers up and down the Mississippi River and its tributaries just as steamboats had done for more than 100 years.
According to The Economist:
In 1966 federal regulations banned any vessel with wooden superstructures from carrying more than 50 passengers on anything longer than day-trips. Congress granted the Delta Queen an exemption because she is never more than a few hundred yards from the safety of the river bank should a fire occur. Since then, the exemption has been extended nine times. But probably not for a tenth.
In another attempt to keep the Queen a-paddlin', Scottish Parliament rallied in 2007 to try and save the Dunbarton-built ship:
So far, 15 members of the Scottish Parliament have backed Dumbarton Labour MSP Jackie Baillie's parliamentary motion calling for the preservation of what she calls this fine example of the area's proud shipbuilding tradition. "The tragedy is they're not going to be licensed in future," she said. "I would want the American authorities to make sure it is licensed so people can continue to enjoy Dumbarton engineering at its finest."

Scottish National Party MSP Chris Harvie added: "It has a wooden superstructure and that is deemed potentially dangerous if any of the millionaires who habitually travel aboard it start smoking in bed, that's the reason they want rid of it. It's been like one of these American courtroom dramas, all these appeals have kept it going. Why not a few more appeals yet?"