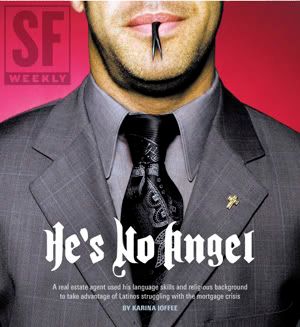 Edwin Parada, the man who allegedly stole money from Latinos in real estate and mortgage frauds, now sits in jail.
By Tom Walsh
The clients, who now call themselves victims, described Edwin Parada as a charming man with verbal skills who possessed lingua del oro, or the golden tongue. He didn't have much to say in court this morning as he faced felony charges of grand theft in relation to what police described as real estate fraud. And now police and Latino housing activists say that still more charges could be in Parada's future.
We first broke the story of Parada's questionable real estate dealings on June 18 ("He's No Angel" by Karina Ioffee). It seems a number of Latinos who were seeking their share of the American dream unfortunately found Parada, who supposedly took money from the immigrants who were trying to stay in their homes during the mortgage crisis.
One such person was Carmen Ruiz, a 57-year-old grandmother who had been praying for help after being diagnosed with a brain tumor and falling behind on her house payments. Ruiz says she handed over the title to her home to Parada and made payments to the man who was a pastor in a local church. Police estimated Parada may have taken $165,000 from Ruiz.
Today in court Parada found out bail had been set at $750,000 and his attorney will ask that it be reduced when he will be arraigned on July 28. Parada is himself an immigrant from El Salvador, not a U.S. citizen but a permanent resident, and has traveled to Mexico and Central America.
The 29-year-old Parada had been working as a real estate agent in the Mission and was known as a bilingual man who could help immigrants facing foreclosure or needing to refinance homes with troubled credit. Civil actions have also been filed against Perada by two people who had been in contact with the Mission Economic Development Association. Dario Romero of MEDA says there are now 12 cases of families who claim fraud or theft that have been given over to the police. "Putting [Parada] in jail is a good beginning," according to Romero. "At least it stops him from doing more. And we have exposed a person hurting the Latino community." A police spokesman confirmed they are still investigating a number of cases and a press release stated "victim losses are expected to be in the hundreds of thousands of dollars."
Romero asks that anyone with information about dubious real estate dealings with Parada call 282-3334, ext 25 or the police Fraud Detail at 553-1521.
Romero added: "I can only hope that people like Carmen Ruiz can keep their homes."