Notes and Photos by Janine Kahn
Friday: Little Saigon Finally Gets Its Columns
In February 2004, the Chron reported that "[t]wo 8-foot pylons, soon to be erected at Larkin and Eddy, will serve as a gateway" to the then newly-christened "Little Saigon." So much for soon - Clubs Editor John Graham, who lives relatively near the area, said he saw the marble-topped columns (pictured) go up just last week. And it appears they've yet to be unveiled. "I guess 4.5 years counts as "soon" in some people's minds, but not mine," he writes.
Thursday: Best Band Name Ever
The band's rickety green tour van is missing a few letters, but we still think "Sleepytime Gorilla Museum" is an awesome way to go. Especially since the name hails a group of artists who called themselves the Sleepytime Gorilla Press and opened a so-called "museum of the future" which contained nothing more than a well-tended fire. The Oakland experimental rockers hit the Great American Music Hall Thursday night, and we spied a line of pretty boys and girls in eyeliner outside.
Wednesday: Another False Alarm at the Westfield
Trying to get to the Westfield food court Wednesday afternoon took a little effort. When we found ourselves blocked by a silver wall on the first floor, we took the escalator up to the second only to find the same hindrance (pictured). Our stomachs growled and we trekked to the main entrance, where we learned there had been a fire alarm of sorts. Having been in the food court when the fire alarm went off more than once, we figure this is some sort of weekly routine for the mall. For one, the food vendors don't budge. One of them told us the alarm is frequently set off by an angry bum.
Tuesday: Homeless Buffet? (Photo by Meredith Brody)
Speaking of bums, we hope one of them was happy to find these little doggies just sitting there waiting to be doused with water and consumed on Bryant Street.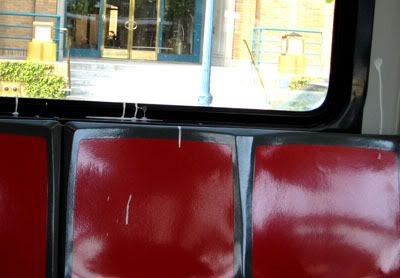 Monday: Mysterious MUNI Stains
They came from nowhere. At least it appeared that way from where we were sitting on our regular Mission Bay work commute. The ceiling didn't seem to be dripping and the tram walls were a different shade of white. Your guess is as good as ours.
Sunday: Cries for Lurve
We've walked the Haight many times and seen this plea to the universe sitting there for quite a while. So we finally snapped a photo. Will someone please date this dude/chick already?
Update: What I'm Seeing's Plug1 informs us that this is the work of a local artist, JAUT. See other JAUT sightings here. Also, SFWeekly.com contributor Mike Cash sends us a photo of one he saw sometime back.