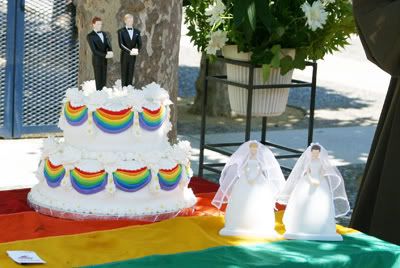 By Benjamin Wachs
Matrimony sells papers. So now that City Hall's turned into a wedding chapel the eyes of the world are watching San Francisco.
How's that going?
Quite well, actually: For once San Francisco is looking good in the national media. A look around the 'net shows that major media coverage of Gay Marriage Monday and Pink Tuesday was overwhelmingly positive.
Most news services are taking it at face value that "gays are people too," and therefore treating the weddings as very joyous, and very human occasions.
Bloomberg News is a case in point. Despite some snarking at the top about "shotgun weddings" held in advance of this November's anti-gay-marriage referendum, the bulk of their coverage was devoted to tender details like this:
Paula Bocciardi plans to get her wedding license tomorrow. Bocciardi, an analyst with the Administrative Office of the Courts in San Francisco, said she was first in line to make a license appointment on May 15, the day the Supreme Court decision was announced.

``Having that piece of paper and making that commitment official means that my relationship is even more -- kind of sacred -- in my own eyes,'' said Bocciardi, 52, who lives in San Francisco. ``So I guess I am not any different than any other bride.''

Michelle Wharton, 36, and Ricci Preffer, 39, are coming from the Hawaiian island of Maui to pick up their marriage license in San Francisco. Preffer, who is due to give birth to a son in September, said she hopes it will help as she seeks to have Michelle legally adopt the child, even though Hawaii won't recognize it.

``Every little bit that we can add to show our intention will protect our family,'' she said.
Likewise the Associated Press started off by saying this was a "preview of the euphoria and anger to come as gay couples from across the nation head west to wed," but spent most of its time reporting on touching human details.
As a printer churned out a license with spaces for "Party A" and "Party B" where "bride" and "groom" used to be, Newsom called officiating the wedding "this extraordinary and humbling gift."

When the pair emerged from the mayor's chamber, a crowd of well-wishers showered them with rose petals and ate complimentary wedding cake.

"When anyone is on the outside looking in, to be finally allowed in is a profound feeling," said Elizabeth Williams, 45, who plans to marry her partner of 16 years later this year.

"I'm tired of checking the single box," said Danielle Lemay, 34, who picked up a marriage license in Woodland with her partner, Angie Hinrichs. "I feared I'd be checking that my whole life."
Makes us look pretty damn compassionate, doesn't it.
The New York Times gave a bit more attention to the protesters outside City Hall "(several hundred supporters and protesters chanted, cheered and jeered in equal measure, giving an unruly carnival feel to the scene, complete with a marching band playing wedding songs and signs reading "Homo Sex is Sin") but still couldn't resist the trappings of a wedding. Really, who can resist weddings?
Not the Sydney Morning Herald, which actually had far more informed coverage of gay marriage in the U.S. than most of the U.S. papers. But they gushed over the ceremonies:
The happy couple emerged from Beverly Hills courthouse to cheers from a crowd of around 100 well wishers before exchanging vows under blue skies and brilliant sunshine in a traditional Jewish wedding ceremony.

Both Tyler and Olson, wearing tailor-made cream linen suits, shed tears of emotion as they said their vows, before the wedding was declared legal.
Virtually no papers actually spoke with any protesters, and those that did gave them little more than cursory coverage, often buried far down in the stories. ABC News spent four pages on the story, started with complimentary graphs up high, and kept it going all through the second page. No one said "God hates fags" until the second half of the third page – and then page 4 returned to positive coverage.
How did we end up looking so good while at the vanguard of a hugely controversial issue? Part of it is surely that attitudes are changing, part of it is that people in red states are more concerned with $4 gallon gas. But a great deal of credit also needs to go to Gavin Newsom who, as reported by Mattier and Ross, set down a careful media strategy. Bullet points include:
• Make it about people, not politics.
• No stunt weddings.
• No mass weddings
In short – and this is great advice – no gloating. No shoving aggressively married couples out at the rest of the country while shouting "Your values suck!"
The evidence – so far – strongly suggests this strategy is working. The major media outlets and even a substantial number of religious blogs are focusing on the marriages rather than the "controversy." It's as much a public relations coup as a social one – and Newsom deserves credit.
So does San Francisco, for noticing that however political gay weddings may be, there's no need for weddings to be politicized. Not gloating doesn't come naturally to SF – but we're proving we can do it when the chips are down.
We should try it again sometime: It suits us.