(Click the image for more photos of Tuesday's ceremonies.)
Notes and Photos by Edward Paik
The bride knows they've waited. So at her first chance she clutches her bouquet and clenches her fist. Released from her partner's grasp, she raises it in triumph and shouts, somewhat in exhaustion, somewhat in relief: "Yahoo!"
"I never thought I'd be able to say those official vows," said Vanessa Angeles, the 29-year-old bride to Michelle Julatun.
Just a month ago same-sex marriage was deemed unconstitutional, even illegal in the state of California. But things have changed.
The men and women gathered Tuesday evening at the San Francisco City Hall are among the hundreds of same-sex couples who lined up at clerks' offices across 58 counties in the state for a chance to get married.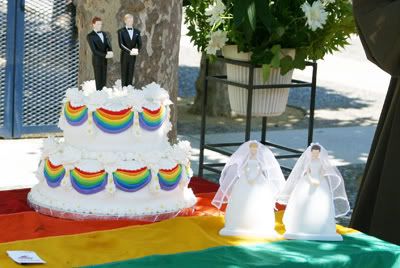 Sitting beside the North Light District within City Hall, Greg Bayolu has personally handed out nearly 25 marriage applications to same-sex couples since he first sat down three hours ago. But for the 60-year-old volunteer it was a chance to be involved in history.
"There's no question," he said. "It's natural. A right for them to get married."
Dressed in a suit complementing the beige marble floor of City Hall, Julatun traded her vows as camera flashes illuminated the gel in her short hair.
"I do," she repeated.
Though marriage was something Julatun and her spouse have had in mind since applying for domestic partnership in 2003, and undergoing a commitment ceremony last month amongst friends and family, the nerves still got to her partner.
"[Vanessa] actually cried," she said, during the 45 stairs to the top of the clerk's office in a nerve-racking, unforgettable moment of pride.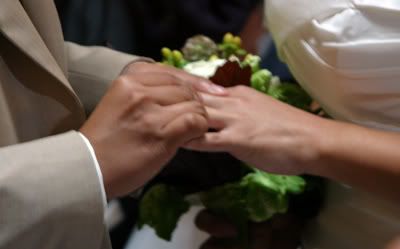 Outside, supporters gathered to cheer for other married couples stepping out into the slight summer breeze of San Francisco.
Across the street, the wedding cake that lay untouched since 2 in the afternoon was now down to its last layer -- sliced and given to supporters and the wed.
"We've been together for 15 years," Julatun said. "We've been waiting for a while."
Random Detail: A list of couples were already designated, and wed in specified locations within City hall in an estimate of 20-minute intervals.
By the Way: Cost of a marriage certificate in California: $84.