(Click the photo for a full slideshow)
Inaugural Same-Sex Marriage Ceremony at City Hall
June 16, 2008
Notes and Photos by Edward Paik
Del Martin and her newly wed wife Phyllis Lyon locked lips not for the first or last time at San Francisco's City Hall.
Both longtime gay and lesbian activists shared their first ceremonious kiss and wedding February of 2004, when current San Francisco Mayor Gavin Newsom ordered for the city to grant marriage licenses to same-sex couples.
The decision was overturned and the marriage deemed null by the California Supreme Court come August 12, 2004.
But after nearly four years since the couple's involuntary divorce, the California Supreme Court overturned the state's ban on same-sex marriage, and Lyon and Martin were first in line for the real deal.
The ruling was made official yesterday evening in San Francisco with a private ceremonial re-enactment of the couple's first marriage at 5:01 p.m., after which the two appeared outside the county clerk's offices, on the second floor of City Hall, to share a kiss before flashing cameras and a standing crowd.
"Today was an expression of great victory," said Mayor Newsom, who presided over the wedding. "This is about human beings, about human dignity."
Comparing the lesbian, gay and transgender community's struggle for marital rights with the Civil Rights Movement of the 1960s, Newsom added that he was convinced that this time same-sex marriage would stay and later be legalized nationwide.
Yet, outside of City Hall, protesters gathered armed with placards, signs and chants to rally against same-sex relations.
One sign read: "RE-CRIMINALIZE SODOMY!"
Victoria Phelps, 15, wore a LGBT flag around her waist while holding signs of protest in each hand well before the ceremonial wedding that took stage across the street from where she stood.
"[I'm protesting] to teach this nation that it's not OK to be gay," she said. "That it's an abomination."
Amidst the protest, the swelling number of supporters for same-sex marriage created chants of their own, with yells of hypocrisy blaring from both sides. As tensions grew, individual debates began to include speaker phones and an attraction for small gatherings. Small shipping trucks adorned with symbols of Christianity and Islam (and a Ben and Jerry's ice-cream truck) tracked around the block.
Casey Bell-Blasdale, a 22-year-old student and staff member from CSU East Bay, came out in protest with her same-sex partner.
"People are just trying to start families," she argued. "Why should we stop people from being loved? More love is exactly what this country needs."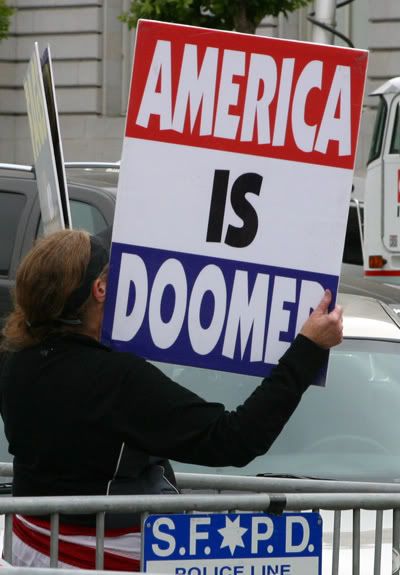 At the end of the ceremony, protesters and supporters waited for an appearance from Mayor Newsom or the newly wed couple, but got neither.
"At least if you want to get married, now you can," whispered someone from the back of the fading crowd. "Now it's official."
Critic's Notebook:
Random Detail: On the back of a large placard in support of gay marriage was a Pfizer endorsement. The company is well known for its production of Viagra, which…well, you know what it does.
By the Way: Marriage-license applications now say "Partner A" and "Partner B" as opposed to "Bride" and "Groom."