(Click the photo for a full slideshow by Edward Paik)
World Naked Bike Ride San Francisco
Justin Herman Plaza (The Embarcadero)
June 7, 2008
Notes and Photos by Edward Paik
Some 50 local activists combated fossil fuels for the fifth year running Saturday afternoon by riding their bicycles in the buff.
As part of the World Naked Bike Ride in San Francisco, nudists and protesters gathered at Justin Herman Plaza to strip down and slap on some sun-screen before pedaling through Downtown S.F. up to the entrance of the Golden Gate Park and back.
"The main reason is to protest the world's dependency on fossil fuel," said the S.F. ride coordinator, who wished not be named. "It's sad that [being nude is] the best way to get people's attention."
The collection of pale nude bodies began to flow into the plaza shortly before noon for the three hour bike ride, with more curious bystanders than participants, and fewer women actually in the event.
"Oh, there's a girl," somebody said from the crowd. "Finally... I guess I'll go over there."
Participant Jerry West has attended the event since 2003 in protest for sustainable energy sources and to convince others "that nudity is okay."
West choose to decorate himself in a theme of rainbows this year, with colors streaking (heh, streaking) his shoulders and his penis - which was dressed up for the occasion with 10 multi-colored hair bands.
Others choose to stay closer to the protest's slogan by using their bodies as billboards for anti-oil and anti-war slogans such as "No Blood For Oil" and "$140 Barrel."
Giving complimentary paint jobs to participants with an arsenal of brushes, stencils and airbrushes, married owners of FaceFX Ken and Bernice Franklin have yet to refuse a request. In the four years of coming to the WNBR everything from happy faces, hearts and peace signs have been painted onto these nude bikers.
"A lot of requests have to do with whatever the current news is. So if the war's in the news we get a lot of blood, sometimes with the oil situation we get a lot of oil," Ken said.
Bernice bent over to get a better look at her target, pressing the trigger on her airbrush that blew pink onto her patron's genitals. "Can I get multi-colored stripes too?" hr asked.
"That's probably the weirdest I've seen," said Ken, pointing in laughter. "Anything goes in San Francisco."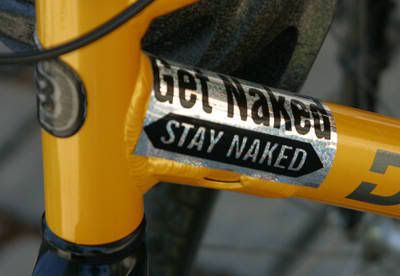 Critic's Notebook:
Random Detail: Third-time WNBR-goer and nudist biker Kevin Hoos visited Ken and Bernice Franklin before the ride to get painted with an image of a teddy bear, genitals included, on his back. Below the image reads: "Golden Bares," the name of Hoos' nudist club.
By the way: The World Naked Bike Ride is an international event that takes place in 20 countries and 70 cities, from Brussels, Belgium to Peru and Japan.