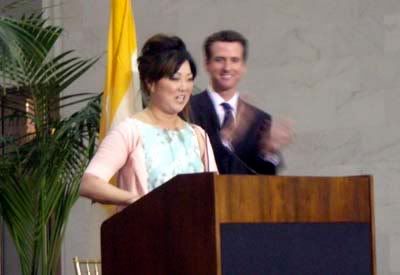 Margaret Cho Day at City Hall
Review by Tamara Palmer; Photos by Susie Kameny
April 30, 2008
Better than: Point Break LIVE! Day
Download: Stream her concert film Assassin for free.
As daylight waned in the South Light Court of City Hall, a camera crew fretted. There to capture the Mayor's official proclamation of "Margaret Cho Day" for Cho's forthcoming VH1 "Celebreality" series The Cho Show, they needn't have worried so much: The outspoken comedienne radiates her own glow, so they didn't really need all of those burning spotlights.
Yet the San Francisco native looked just a bit shy and demure as she sat politely while Cho's friend, Police Commissioner/transgender activist Theresa Sparks, spoke of Cho's strides in fighting for LGBT acceptance and inclusion. Sparks, who is also the CEO of the beloved sex toy emporium Good Vibrations, concluded her introduction with a kind offer:
"And if you need a new Hitachi Magic Wand," she said, naming an ever-popular vibrator, "Just give me a call!"
The relatively young audience, which numbered about 200 deep, laughed heartily. The Mayor took to the podium, asking, "So, it's Hitachi . . .?"
"Your fiancé will explain it to you," retorted Sparks, to even more delighted laughter.
The Mayor was wise to not try and riff off of this any further, and kept his own introduction a bit more formal and brief. Not that this encouraged Margaret Cho to hold back at all.
Cho politely thanked Sparks, the Mayor, her family (who sat in the front row) and her mentor. She made a point to say how good it was to meet the Mayor after being so touched watching him officiate all of those gay marriages on TV. Her nervousness was palpable until she found comfort in the outrageous humor she knows best.
Facing the Mayor, she declared him "shockingly hot, like a bucket of hot water." His face reddened as she analyzed how rare the situation was: "He's hot and he's straight–oh my God, he's like a unicorn!"
She lamented that, despite the Mayor's best efforts, gay marriage is still not legal. "It would be good for the economy," she said, "Just the ice sculptures alone!"
She also talked about how proud she was to be honored with Margaret Cho Day, and how she'd like it to be commemorated.
"This should be a gay holiday," she enthused. "All the salons would be closed and you wouldn't be able to get facials. Well, at least not those kind of facials!"
Critic's Notebook
Personal bias: Pro-Cho in '08.
By the way: Margaret Cho plans a triumphant return to television as The Cho Show debuts in the summer on VH1.