Welcome to a work week that doesn't include Naval forces flying precariously close to your office building. OK, that was fun in its own way, and undoubtedly the weekend's star attraction, but there was more to do over the break than look up at the sky. Here's the weekend as All Shook Down remembers. --Janine Kahn
Friday: Chuck Norris was nowhere near the state of California Friday night, but he still managed to hear every joke cracked in his name at Milk Bar and has a bone to pick with organizers over his missing invite. ASD correspondent Jackie Lopez reports that this is the second Chuck Norris Party the Bay Area has seen over the summer, and the first one was better, but hey, the tourists had a blast.
Elsewhere on Friday: Our SoCal mole Christopher Victorio found himself at day one of the geekfest known as BlizzCon, which was held at the Anaheim Convention Center. Friday's highlight was the costume contest, hosted by comedian Jay Mohr. The winner? Amanda from Tempe (pictured) who wowed the crowd with her mechanical turtle, "Speedy." See more photos from BlizzCon here.
Saturday: Sam Heller hung around Crissy Field and yours truly stood atop a building on Cathedral Hill, cameras in tow, to catch the Blue Angels Saturday afternoon. Our combined photos (and some from the viewing area at the Marina on Sunday) are over here.
Also on Saturday: SFoodie Tamara Palmer stopped by the Ferry Building for Asian Food Beyond Borders, a free educational festival hosted by non-profit Asian Culinary Forum. There, she got some video and poached some poached bamboo.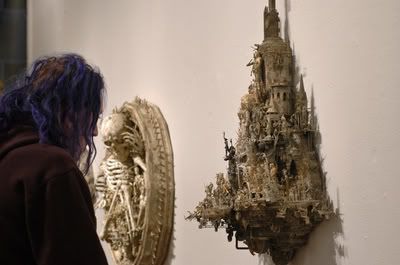 Saturday Night: Josh Creep (who brings you the Lowbrow Art Sale every Tuesday morning) got on a bus full of coughing people to attend the Shooting Gallery's new show, which features pieces by Travis Louie, Kris Kuksi and Mercedes Helnwein. He was dazzled by all three artists but was particularly floored by Kuksi's artwork, as you will be should you click here.
Sunday: Photographer Mekuria Getinet and his wife strolled through the Indie Mart Street Fair outside Thee Parkside. There were sock monsters, baked goods, local bands and many pretty things (and people) to shoot. See his Sunday photo set here.