Chuck Norris Party
Milk Bar
October 10, 2008
Notes and Photos by Jackie Lopez
Better than: MacGyver
Check this. If you have five dollars, and Chuck Norris has five dollars, Chuck Norris has more money than you. Chuck Norris can kill two stones with one bird. Chuck Norris can divide by zero. Chuck Norris is like a dog: not only can he smell fear, but he can piss on whoever he wants. You get the picture.
The jokes kept on coming last night at Milk bar, with the guys in attendance mouthing off about the almighty Mr. Norris and his infamous, gruesome, extravagant ways. The girls rolled their eyes, but couldn't keep the laughter and political correctness in check for too long.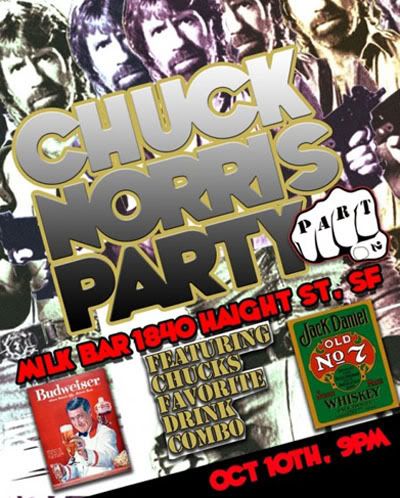 Friday's event was part deux to Homeroom Clothing's original Chuck Norris Party, which landed earlier in the summer and was such a hit that the organizers promised the crowd another. I find it strange that a retail company would veer so far away from fashion in throwing a party. (Mr. Norris, for all his machismo, isn't exactly a fashion fiend.) But those at Milk didn't seem to mind.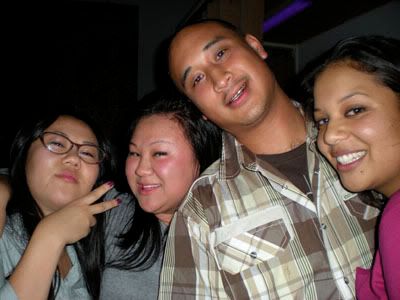 The host, Strange Face's Rush One, took the mic as DJ A-Ron (who we last saw at the Etiquette Lounge) slapped the crowd with songs that Chuck Norris would have approved of. Oh wait, didn't you know? Chuck Norris made that MC Hammer beat! And while we're on it, Chuck Norris can touch MC Hammer.
The night brought out a different crowd for Milk Bar. The Bay Area hip-hop elite were absent, as were a good number of the regulars, and the majority seemed relatively new to Milk. They all seemed to enjoy the music, especially the group of European tourists who got very excited to hear there was a Chuck Norris party going on inside. Let's just say they enjoyed themselves so well, I could hear their intoxicated voices cracking Chuck Norris jokes in the booth area...and I was at the bar the whole time. Chuck Norris heard them too. And he's all the way in Texas.
Some folks got a little too serious with the Norris 'tude, swaggering around as though they were going to try to pull some Chuck-esque moves. DJ A-Ron noticed and took a break from giving us fast break beats, slowing it down a tad till the crowd settled down. Notorious BIG's "One More Chance" flew through the speakers, calming the masses and then "Saturday Love" by Cherrelle and Alexander O'Neal started up and everyone shimmied on.
Critic's Notebook
Personal Bias: Here's some school pride. Homeroom started at SF State. So did Bebe.
Random Detail: The Homeroom family usually comes in a yellow school bus. It wasn't there last night. Someone explain.
By the Way: Chuck Norris can win a game of Connect Four in three moves. Sorry, I couldn't help it.