Treasure Island Music Festival
Sunday, Sept. 21, 2008
Treasure Island
Words by Jennifer Maerz, Photos by Christopher Victorio
Better than: 99.9 percent of other music festivals on offer (although Outside Lands was a close second)
The second day of Treasure Island Music Festival had a pretty dramatic shift in energy from Saturday. As Melissa Baron reported, Saturday's kickoff had a heavy dance/electronic component, which meant the crowds were bouncing up and down for most of the afternoon. By the evening, the island became a crazed rave that climaxed during Justice (with that enthusiasm given a little boost, for the two-dozen recent college grads near me, with a combo of ecstasy and "glow accessories" -- glow sticks, glow head bands, lit up shirts, glow thingies for your tongue...it was the early '90s all over again).
Sunday the crowds were significantly more stationary (and, from the looks of things, slightly more sober), but the vibe was less about big beats and giant stacks of amps and more about carefree pop and four part vocal harmonies, and elements of both came though that afternoon in spades.
In the vocal harmonies division, Seattle's Fleet Foxes stole the show on Sunday. (Even Jack White got a crowd escort over to the second stage to watch them perform). Lead by Robin Pecknold, the band's instrumentation was almost an afterthought, as their a cappella moments showed the strong emotional response their four-part harmonies alone can evoke. But together with a guitarist who plays with a violin bow and songwriting that hovers between cosmic country and dynamic, gently blossoming pop, Fleet Foxes put on a performance that really showed why they've had such a meteoric rise this year.
The second stage had a stronghold on talent for most of the day, especially with all the local bands that opened up the festival. I missed Or, the Whale and Port O'Brien's noontime sets, but was able to finally catch the Morning Benders. The Bender's sweet, Beatles-rooted pop came out of a speakers a little wind damaged, but their peppy songs still got their hooks in the crowd. The Morning Benders and the Dodos both made the perfect soundtracks for the nearby Ferris wheel, whose swinging yellow and white cages added to the carefree vibe their music produces. The Dodos rotated in a xylophone, a trombone, and a gong to their usual guitar/two percussionist lineup, their sound as wonderfully eclectic as ever.
On the main stage, Vampire Weekend kept the mood light for their fans, going through all their blog hits and getting the crowd to move around a little more than usual. I dig that band, and think they're spot-on live, but they weren't for everyone: two dudes in day-glow Ray-Bans and dark flannels were loudly and sarcastically alerting everyone around them how much they "just love Paul Simon" (and yeah, those Simon comparisons are apt).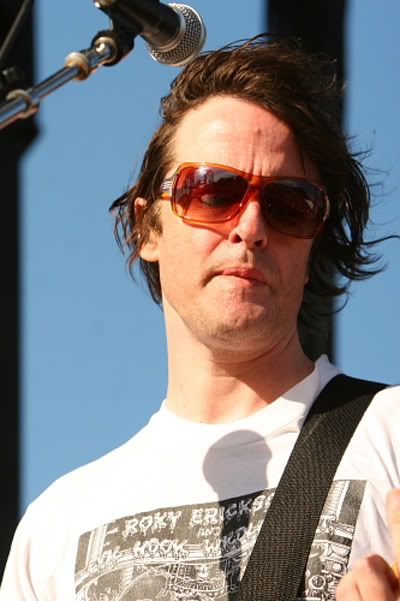 My mainstage highlight, though, was Spiritualized, with a healthier Jason Pierce back in action after a serious bout of double pneumonia, which was subtly documented within the release of Songs in A&E. With a full band and a couple backing singers, Pierce led the group through through a collection of new songs and old crowd pleasers off the incredible 1997 classic Ladies and Gentlemen We Are Floating in Space. (The frontman stood into the wind, his white shirt flapping, for added drama.)
I wished that Spiritualized had played a little later (and therefore longer) in the day, as nothing after them matched up. Sorry to Tegan & Sara fans, but that band was a buzz kill, with a set that had too much banter and too many mid-tempo songs that sounded the same, mellowing out the excitement that seemed to have built earlier in the day (it also seemed like the crowd had its first wave of departures after Vampire Weekend). Those Canadian gals had their loyal followers, to be sure, but their hour long set made me glad the island offered other attractions to explore (attractions which ranged from the aforementioned Ferris wheel to retail booths for clothing and accessories, to the all important Imeem lounge -- all important because it had plenty of places to park your tired ass, with a little shelter from the wind. I was especially thankful to sit for a bit when the Kills played that one song they wrote for a good 40 minutes. People dig that duo but for me they're a one trick pony -- although it is good to see Alison Mosshart has become more animated a singer over the years.)
And as much as I think Jack White is a consummate performer on stage, I left mid-way though Sunday's main headliner, the Raconteurs. White was jumping around and offering theatrical banter ("I'd like to dedicate this band to my band, and dedicate this song to my song") but the music sounds like standard blues-infused rock 'n' roll to me; I've yet to get into these guys over the White Stripes. White adds dramatic flair but the music lacks something at its core, especially up against the younger, hungry acts of the day (like the Fleet Foxes, or Vampire Weekend).
But hey, my critical biases of specific bands notwithstanding, I'd say year two of Treasure Island Music Festival was a big success. It's the lineup that brings the crowds to the island, once you're there it once again felt like a singular San Francisco/Bay Area event. Watching the skyline of San Francisco silhouetted against Dr. Dog on the second stage, or seeing the lights of the city pop as dusk came on, is a pretty special experience. I also really appreciate that although Treasure Island needs to make money, there isn't a giant corporate feel to the event. The most prevalent signage around the concert grounds was the festival logo (a cool looking upside-down pirate ship turned into an underwater island) and the choice of venders and artists booths put an emphasis on local.
Plus, movement to and around the island was really easy (well, if you left a bit before the last acts finished. Otherwise I hear the lines were long). The buses were a breeze to get on and off of, the two stages never competed against one another, and it wasn't a very long walk to get from one end of things to the other.
Two years in, I think Treasure Island has become a genuinely special event for both sides of the bay, and I can't wait to see what the third round brings next summer.
By the way: Celebrity sightings (of people not performing that day) were few and local. Winona Rider wandered around both days, looking like a pixie punk with her two-toned hair and tiny physique, and Third Eye Blind's Stephan Jenkins was spotted in the VIP area during the Raconteurs' set.