Treasure Island Music Festival Day 1
Treasure Island
September 20, 2008
Better Than: Spending all day Saturday drinking on the couch listening to music on your laptop.
Words by Melissa Baron, Photos by Christopher Victorio
Big music festivals can be the worst nightmare of an actual music fan. They're packed full of frat dudes, underage scenesters and burning man aficionados smoking pot in your face and spilling beer on your shoes. The sound is always bad, the lineup usually unsatisfactory and all the best bands play at the same time on stages placed five miles from each other. While Treasure Island could not bypass the abundance of irritating attendees, it did manage to provide a damn fine day of live music.
The festival prides itself on a mission of eco-friendliness, so concert goers ventured to AT&T park to leave their cars or bikes. For those who were interested there were also folks attempting to sell pot brownies in the parking lot. There were buses available to shuttle people to and from the island, and these were not your average buses. They had big leathery seats and television screens playing Current TV.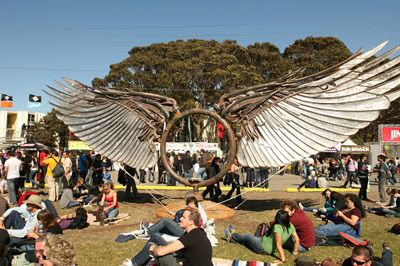 Upon arriving, a big, rotating beacon of light sat just beyond the entry way -- a ferris wheel. Yes, this festival has a freaking ferris wheel. Next to the ferris wheel lies a whole area devoted to local art and SF Zine Fest. Shoppers could find silk screened t-shirts galore as well as many other indie crafts including a downsized version of the Mission Indie Mart. Other booths had FREE HAIR CUTS and face paint.
More important than face paint and ferris wheels, the festival boasted an impressive lineup with bands from all over the world. We're talking Mexico, France, Brazil, England and the Western Addition of San Francisco. They played two stages at alternating times so it was possible to catch every act of the day and rarely sit through a sound check.
Justice, hailing from Paris, headlined the show and sent people into a dance frenzy. On their last tour they seemed bored. They sat on stage smoking their cigarettes and looking French, mustache-y and like they would rather be anywhere else in the world. And with only one record out they tended to play what sounded like the exact same show over and over again. Amazingly, last night was different. They stood behind their big French fortress of doom and gave San Francisco a reason to shake it. They mixed and mashed and remixed very differently than they had done at previous concerts. Plus, in their pretentious foreign way. they almost looked excited to be there. DJ sets belong in a live music setting and there's nothing quite like breaking it down with thousands of your new best friends.
Brazil's CSS arrived thrilled to be at Treasure Island not just because it's awesome, but because it was their first San Francisco show that wasn't at the Mezzanine. Lovefoxxx appeared onstage in a jacket of sorts that appeared to be made of either spray painted bubble wrap or garland. As she took the stage, someone shouted "I love you Bjork!" The resemblance is striking. She also looked quite a bit like a Muppet. They began the show by letting a bunch of balloons go. Perhaps not an ecologically-sound decision, but it looked cool. Lovefoxxx maintained her party banter with the audience, occasionally yelling out things like "where are my bitches at?" (which was followed by some babble regarding "gay bitches" and "bitchin' gays) and "come on let's dance together." They played a pretty solid set which included songs like "Jager Yoga" and "Off the Hook." People danced, though it may just have been to stay warm.
TV on the Radio from Brooklyn always perform excellently. They put on an great show last night, but there was one problem -- the outdoors. The combination of being outside and the intense amount of wind caused their sound to get muddy. They usually play crisp and polished music, but the festival sound system and the elements worked against them. Fortunately, they're exciting enough to watch that it overshadowed the sound issues. As they played the sun went down, the stars came out and it started to get cold. Lead singer Tunde Adebimpe instructed the audience to "huddle together. Stay warm." Last night was special because it was band member Gerard Smith's birthday. The darkness and the lighting suited TV on the Radio perfectly. They played songs from older records like "Wolf Like Me," "The Wrong Way," "Dreams" and "Staring at the Sun." In addition, they played several songs off their new record "Dear Science," which comes out on Tuesday. Many of the songs featured horns from their Brooklyn friends Antibalas. Based on the assortment of new songs played, the new album should be quite impressive and diverse.
The early day provided an assortment of DJ stylings. San Francisco's Mike Relm played what he claimed to be his "first DJ party set." He defied the pretentious tendencies of most DJs and looked happy and excited while mixing it up in a suit and glasses. He used songs from the Beastie Boys, Gorillas, Bowie and of course, lots of hip-hop. Earlier Amon Tobin did an electronic set and kept people dancing through the afternoon.
Goldfrapp, Hot Chip and Foals did their part to represent the UK. Goldfrapp looked perfect in her ribbon-covered dress playing outdoors in the sun. It looked like a bohemian paradise. She has a beautiful voice, but the wind kept blowing through the microphone. Her set included "A&E," "You Never Know," "Ooh La La" and "Number 1." She spoke sweetly with the audience, frequently making sure everyone was having a good time. The highlight of her set? The keytar. And of course everyone went crazy dancing for Hot Chip. The most astounding part of their live performance is seeing such a high pitched voice come out of a man. Their set included "Boy from School," "Out at the Pictures" and "Over and Over." Meanwhile Foals brought their unique brand of rock to the smaller stage. Their vocals and guitar parts sound more gruff, rough and rockin' without the processing on the record.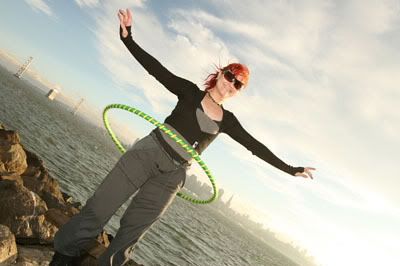 Aesop Rock and Antibalas both kicked ass. Aesop Rock makes super hip-hop music and it transfers perfectly from CD to live performance. And Antibalas provided a full horn section, which many thought was an exciting addition to an outdoor music festival.
However, for me, the highlight was Nortech Collective: Bostich + Fussible. This Tijuana band fuses electronica with traditional Mexican music. On stage they had two members working with computers, one on accordion, one on trumpet and one on guitar. The result is the best dance music of all time. It's sexy, suave and has real instruments! Their performance was entirely instrumental and very well received by the audience. Like Antibalas, they provided great diversity during the festival and it was much appreciated.
After Day 1 packed full of music, it'll be exciting to see what Day 2 brings.
Critics Notebook
Personal Bias: There were some bands like Foals and Hot Chip that I definitely was not stoked to see in the first place.
Random Detail: While in the pit during CSS I met some new and slightly intoxicated friends named Nick, Tuesday (named after a Lynyrd Skynyrd song), Beth and Nathan. Nathan was quite intoxicated and pointed out that one of the stage hands looked like Moby. Nick and Tuesday are married with two children. Is there anything cooler than parents who go to rock concerts? Indie rock concerts at that. Here's to you Nick and Tuesday, for being the coolest parents around.
By the Way: The festival continues today! Check back tomorrow for music editor Jennifer Maerz's take.