Guitar Superstar Competition
Great American Music Hall
September 13, 2008
Better Than: Playing stupid guitar video games.
Download: Video of Vicki Genfan in action.
Words and Photos by Tyler Callister
Hundreds of music fans and shred-heads squeezed into the Great American Music Hall last night for Guitar Player magazine's fourth annual Guitar Superstar Competition. It was an American Idol-style search for lovers of those six little strings. In the judges corner were a host of modern guitar masters: Joe Satriani, Steve Vai, George Lynch (Dokken and Lynch Mob), Elliot Easton (The Cars), and Brendan Small (co-creator of Adult Swim's "Metalocalypse" series). Master of ceremonies for the evening was Andy Summers of The Police.
Ten contestants from across the world rocked the stage, each with his or her own brand of instrumental guitar music, with a huge range of styles represented. And the winner was not, as you might expect, a sweaty guy with big hair and a tank top, lighting his guitar on fire and lashing his tongue at the audience. It was a stripped down, solo acoustic performance by Vicki Genfan that took first prize. Genfan fused together a variety of crowd-pleasing techniques, from finger tapping to beating the body of the guitar like a drum.
Guitar Player will award Genfan with a feature article in their magazine, as well as tons of gear from sponsors like Guitar Center, Mesa/Boogie and Epiphone.
The judges, who sat on the balcony and could be seen only through a camera projecting their images on stage, gave each player a critique. Satriani and Vai were cordial and polite. Elliot Easton was thoughtful and funny. Brendan Small was just funny. And George Lynch, who these days looks like a cross between Neil Young and Randy Quaid, was totally awkward, inciting boos from the audience at least once and telling Genfan, "I didn't know a girl could play guitar like that."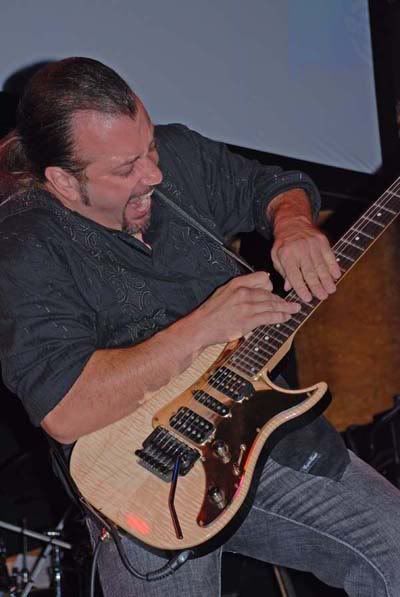 Now in its 41st year, Guitar Player is the oldest guitar magazine in the world. The backing band for last night's talented contestants included editors from Guitar Player and their affiliated magazines Bass Player and Keyboard. "We think that with Guitar Player's standing in the industry, that it was just time for us to give something back to the community," Guitar Player editor Michael Molenda explained in an interview prior to the show.
Molenda also expressed admiration for the bravery of the contestants. "It's a lot of pressure on these guys," he said. "I gotta give them props. When they hear who the judges are they typically crap their pants."
The only local contestant was Eric Barnett of Sonoma. Barnett did not place in the competition but did receive one the largest crowd responses from his classic rock-inspired jam. When asked how long he's been playing guitar, Barnett said, "More years than I wanna put in your article."
So why do people still love the electric guitar so much? "I think it's been enduring because it has the capability to change," Barnett said. "That's really what motivated me. Just having so many options available to me is what really resonated with me and why I wanted to play it. Because it just felt so free and limitless."
Molenda emphasized the communal aspect of the competition, saying the contestants got a lot more out of it than the prizes. So what does he hope they get out of it? "I'm just hoping that they're inspired to keep going," he said.
Critic's Notebook
Personal Bias: I'm not trained in shredding but I do play guitar.
Random Detail: Andy Summers in bright red pants and spacey running shoes.
By the way: Check out Eric Barnett's band.