Stones Throw Appreciation Party
With Peanut Butter Wolf and J Rocc
Mighty, 119 Utah Street
September 12, 2007
Notes and Photos by Jackie Lopez
Better Than: MTV's TRL
Stones Throw Records has definitely got some of the dopest artists, producers, MCs, DJs and heck, all-around-prodigies, to bless the hip-hop stage. The likes of Aloe Blacc, Guilty Simpson, Madlib, Oh No, and Quasimoto represent the label, which is probably best known for housing J Dilla, one of the most outstanding beat-producing masterminds. The Bay Area can collectively grin that one of ours, Peanut Butter Wolf, owns Stones Throw. On Friday night at Mighty, I joined a packed house of supporters to welcome the Wolf back home.
Have you ever seen a crowd face the stage and just start flowin' all together to anything that the DJ put on? How about three gigantic screens hovering above the main room while a DJ mix was taking place? The Stones Throw Appreciation Party brought out not only Peanut Butter Wolf, but J Rocc -- one of the original turntablists for the Beat Junkies, which he helped found back in 1992.
The host introduced him saying, "this is our music," then walked off the stage, leaving J Rocc to mess with some drums. He let the crowd have it with his mixture of old school, house, reggae and hip-hop. He even threw classical music in with a beat (ode to J Dilla), and that part of the set hit me so hard, I felt vulnerable for half a minute till he switched back to the old school jams. When J Rocc played "Friends" by Whodini, I heard someone behind me say, "Man, he's killin it." And then some.
While the DJs hit the stage, artists painted on canvasses set up at the venue's corners. I circled the paintings until one artist came up to me, gave me his business card, and introduced himself as Drendo of Swamps and Bridges. You can browse his work here.. Closer to the entrance was another artist, Dania Wright. There was a table set and she was embellishing t-shirts with some amazing portraits. She called it "wearable art" and had a rack of hand-painted tees, which she'd done one by one to the beat of the bass.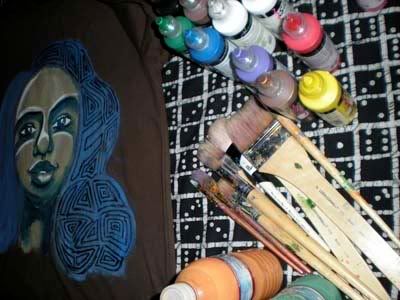 Around 1 a.m., Peanut Butter Wolf appeared onstage, red felt hat and all, and let us see what the video hype associated with his name was all about. See, for around a year now, the Bay Areahas only been able to witness PBW DJ to a video mix synchronized to his set on YouTube. Live, it was something else.
Those three massive projector screens on the wall stopped repeating ads of Lyricist Lounge, Segue and Mighty and switched to a stream of music videos that matched up with the Wolf's selection. The crowd kept its attention on the stage -- it was sort of like watching music videos with friends, turning to each other and going "ohh, remember this?" only at a packed club with hundreds of strangers. When was the last time you saw KRS One "Sound of Da Police," M.O.P "Ante Up," or Special Ed, "I Got It Made"? Some of the videos I'd never seen before. What a treat.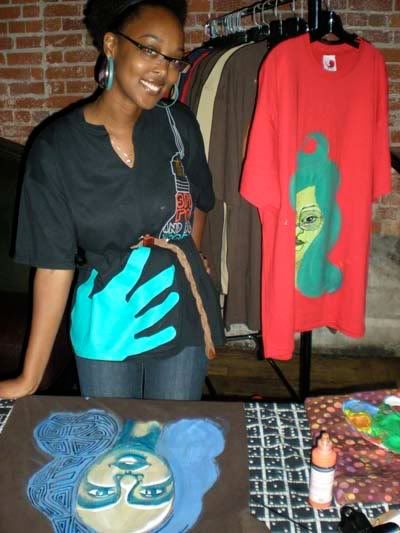 Critic's Notebook
Personal Bias: I wont apologize for swooning over J Rocc's beats. I can't help it.
Random Detail: The Stones Throw ad with the vinyl record spinning on the projector screen was pretty darn attention-grabbing.
By the Way: Jamal Jeanpierre, you owe me a drink ticket.