Tutu Tuesday
Vessel
Last Seen: September 9, 2008
Notes and Photos by Crystal Akins
Better than: The San Francisco Ballet
Committed to her New Year's resolution of wearing a tutu for the rest of the year, party promoter Carla Tutu (a.k.a. Carla Gardner) invites you to romp around in ballerina-esque tutus every second Tuesday of the month at Vessel.
"I feel like it's a special enough city where people could get into it," said Gardner while greeting her ornately-dressed guests at the door.
Originally inspired by last year's Burning Man, Gardner's idea is bringing San Franciscans a distinctly surreal and unique experience during the week. What's more surreal than watching a bunch of inebriated faux ballerinas dancing around in hellish red lighting to techno and house music? You tell me.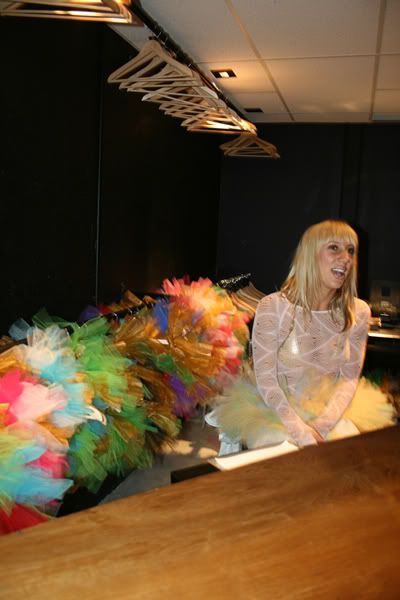 But Gardner is sincere and so sweet: she greets her guests at the door, chops it up with you for awhile, and has a sharp eye for detail with the number two manifesting itself in more ways than one. Let's go through them...
Tutu (sounds like the number two said TWICE) happens the second (there's that number again) Tuesday (twos and "tues") every month. Still not enough? If you're lucky, you'll get a two dollar bill back as change from the bar that's marked with the official "Tutu Tuesday" stamp. And when they're available, temporary tattoos of the logo start cropping up on every limb of everyone in attendance, forcing you to exist in a matrix of twos! Depending on how many drinks you've had, you might even start having double vision. Oh wait, there's also a $2 cover charge.
And like a perfect marriage, Gardner's sincerity is coupled with being a good hostess by offering her guests free champagne from 9 p.m.-10 p.m. and chocolates. Other nights have offered cupcakes, ice cream cakes, or some other dessert that satisfies a sweet tooth. Echoing tonight's theme in honor of Lovefest, gold dusted chocolates were the treat.
The theme, symbolized via the gold spray-painted ball pit and said chocolates, represents the gold jacuzzi float Gardner will be on during this year's Lovefest. Unfortunately, Vessel does not allow actual jacuzzis into their club so Gardner took the time to spray paint the inflatable pool herself--how's that for dedicated?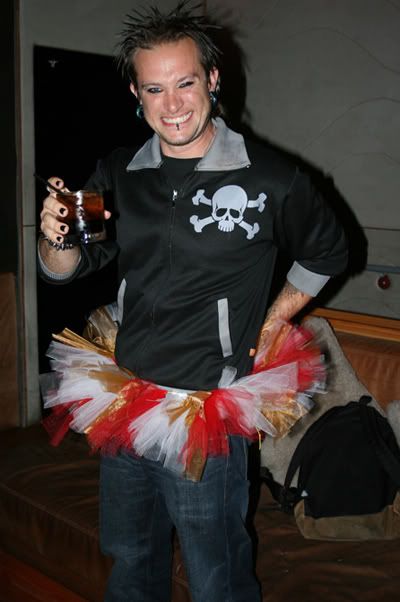 Wear a tutu or don't, but in case you forgot to bring or don't own one, you can purchase one of Gardner's handcrafted tutus in miscellaneous neon colors at the door for $10 (see photos).
Granted, there wasn't a huge crowd at the event but this party has the potential to make waves. It was still in its infancy (last night was the 5th party) and directly rivals 222 Tuesdays at the 222 Club, but there's no reason you can't go to both.
On a final note, I officially commend all attendees who showed up in their flashy outfits. That takes balls.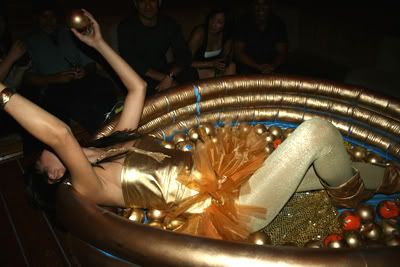 Critic's Notebook
Personal Bias: I've covered this bar already, but this was by far a completely different experience.
Random Detail: Instead of smelling like peaches this time, it reeked of jasmine.
By the way: Not wearing a tutu makes you look like a Debbie Downer.