(Click the image for a full Lebowski Fest slideshow.)
Lebowski Fest San Francisco Bowling Party
Classic Bowling Center, Daly City
September 6, 2008
Notes and Photos by Masha Rumer
Better than: Soiling a rug that ties the room together.
The Lebowski Fest recipe: One part pot-bellied men in bathrobes and scraggly facial hair, one part tipsy women in red wigs, eight parts White Russians. Mix it all in, pay up $30 and you'll end up somewhere that feels and smells like an off-track-betting booth on a Monday afternoon. Welcome to the Lebowksi Fest Bowling Party in San Francisco, dude.
But the nearly-1,000 fans of The Big Lebowski, a 1998 cult film by the Coen Brothers, flooded the Classic Bowling Center in Daly City with enthusiasm Saturday night. The second night of the Fest, held in San Francisco for the first time since its inception in 2002, involved bowling bacchanalia, outrageous costumes, trivia games, prizes and lots of White Russians. The drink paid homage to the White-Russian guzzling Dude character, played by Jeff Bridges in the movie.
Highlights of the Lebowski Fest. Number one: long lines of liquored-up people in costumes waiting to buy really strong $6 "Caucasian" drinks.
Second highlight: the outrageous costumes. This wasn't your typical BayCon/ Ren Faire, where people don outfits of a vampire or a commoner and expect to be pointed at and recognized. Certainly, there were at least 12 characters of Maude, played by Julianne Moore in the movie – in red wigs, some in green robes, others looking like a Viking with bowling balls for bosoms. Of course, there were more than a dozen requisite Dudes and nearly as many Walters, with some stuffing their shirts to resemble John Goodman. But many other Lebowskiites dressed up as characters that weren't there, as words or as props. There was the non-existent ex-wife. There were people imitating the Dude's phrase, "the Royal We." There was Larry's homework on legs. There was the bearded Moses with Sandy Koufax, birthed after Walter's words "Three thousand years of beautiful tradition, from Moses to Sandy Koufax…"
George Igoe, in a king's costume and a Wii box as a prop, said he bought the box on Craigslist for $5. Emily Castelli dressed up as Larry's homework. Her husband Pete Castelli was a giant notepad with a drawing of a man with an erection, which was shown in the film for a brief few seconds. He described it as the movie's "metaphysical moment."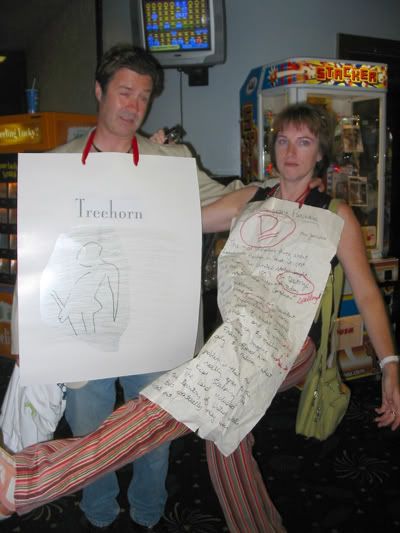 Two volunteers recreated a scene of a stranger in the film imitating sexual acts on another, with the crowd whooping and yelling "Do you see what happens, Larry?!"
I was amazed to see so many fashion replicas of the Dude, particularly the grandma cardigan sweater with a pattern. One man sporting such a sweater, who only volunteered his name as "the Dude, or Duder, his Dudeness or el Duderino if you're not into the whole brevity thing," said he bought his sweater used on eBay, but couldn't recall for how much. "You have to have the picture of the Dude next to you to find the right pattern," he confessed. Not at all like idolatry, I'd say.
Another highlight: linguistic imitation, the semiotic signifier/signified or what have you. Swarms of bawdy people drawled out, "ma-a-an" while tossing a bowling ball that missed the pins.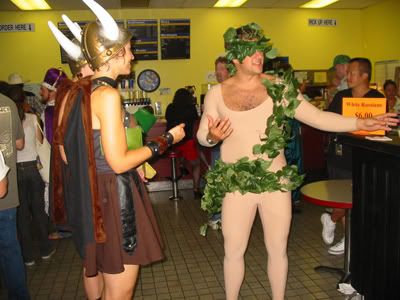 Two guys from Alaska argued about who ought to get the prize for traveling the furthest to the Fest. One was from Anchorage, another from Fairbanks. But before things broke out into a fistfight, the two recited movie lines to each other, embraced and went to get some White Russians.
Three men in cut-off shirts climbed on stage and started throwing toes with green nail polish at the audience, in a tribute to a toe sent by alleged kidnappers. The crowd jumped to get their hands on the toes. Two women in red wigs in the back yelled too, in vain.
"Give us a toe! Give us a toe! What does it take to get a toe around here?" one screamed.
"Obviously dressing up as Maude doesn't do it," another complained. "It's too vaginal," the first one suggested.
The question remains: what's the big deal about the film? Why are people going gung ho about The Big Lebowski, chugging Kahlua drinks like college freshmen, and yelling "This aggression will not stand!" with religious zeal?
Some people said they've seen the film 20 times. Another, the "Royal We" saw it 50 times. "It gets better every time," he confessed. "Sober, drunk, doesn't matter." Most said they perceive some transcendental truth in every dialogue line.
I suppose when you can churn out a witty line in response to any life situation, say "dude" with more passion than that guy from the Dell commercial, and answer trivia questions like "Who is in charge of scheduling down at the league officer?" then you should consider yourself a true achiever (and proud we are of all of you).
Critic's Notebook
Personal Bias: I had no idea that films besides The Rocky Horror Picture Show drew such zeal. Why? I couldn't help but wonder…
Random detail: The bowling center's bar manager claims to have bought 12 cases, or 144 liters, of Kahlua for this event.
By the way: Jeff Dowd, the inspiration behind the Dude character in The Big Lebowski, was in attendance. Jeff Bridges is cuter.