(Happy-Go-Lucky)
Notes By Meredith Brody
The first official festivity of the 35th Telluride Film Festival that I attend is a brunch held at a ranch with dazzling views of the Rockies (did you see the Oprah interview with Tom Cruise at his Telluride spread? Kinda like that. Even multi-dwelling Oprah was stunned by the landscape. Rumor hath it that the new-ish owner of the hilltop where we're noshing on bagels and lox is Meg Whitman, ex-CEO of eBay, Republican – why am I not surprised? – whose name had come up as a possible VP candidate, another rumor had it. But just before leaving the house en route to my hotly-awaited lox, we learn that John McCain has instead picked another woman, Sarah Palin, who I've never heard of until that moment. I have indeed heard of Alaska.)
The brunch offers a ton of food and people watching, in addition to the amazing views on this perfect sunny-but-breezy day. I never make my way to the hot-food tent, busy chatting with fellow film buffs Phillip Lopate, director Allan (Rock and Roll High School, Heroes) Arkush, screenwriter Larry (48 Hours) Gross, Variety film critic Todd McCarthy, Variety columnist Anne Thompson, Pordenone Silent Film Festival director Paolo Cherchi Usai, and LA Weekly film critic Scott Foundas. We're sitting on a ledge, accidentally perched next to Telluride tributee Jean Simmons, who is graciously receiving a constant stream of well-wishers. We catch glimpses of part-time Telluride resident (and herself receiver of a past Telluride career tribute) Laura Linney, Jeff Goldblum, star of Adam Resurrected, and Slavo Zizek, the Slovenian philosopher and critic who is this year's Guest Director.
Perusing the Festival booklets that are handed out upon arrival at the brunch – Telluride is famous for not announcing its program in advance -- we wonder why Lauren (Gilmore Girls) Graham is there, until we learn that A Flash of Genius, in which she co-stars with Greg Kinnear, is slotted into some of the TBA (to be announced) slots that pepper the schedule. (As it happens, it's the last time we see her during the Festival. She looked great. And we're a big fan. But we never get to tell her that.)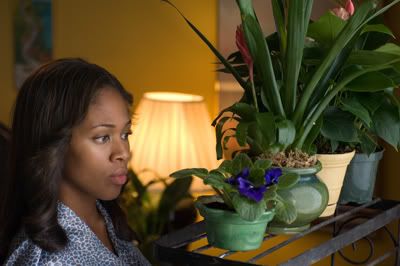 (American Violet)
Coincidentally, and following our shared Telluride experience, after running into our beloved former Village Voice colleague and current Denver Post film critic Lisa Kennedy outside the Telluride press briefing held after the brunch, we never see each other again. Maybe next week, in Toronto.
I snag a ride down the mountain with Phillip and Paul Schrader. When I not-so-daringly come out in favor of watching movies on the biggest screen possible (Manohla Dargis, who wrote in an article in the New York Times that "a screen is a screen is a screen"), Schrader disagrees: it seems he loves loading episodes of Mad Men on his iPod and watching them as he jets from one increasingly well-paid speaking engagement to another. (In our next encounter he also tells me that he starts every day out at the gym. I, who have neither a gym nor an iPod, can learn much from him.)
(Flash of Genius)
At the press briefing, Telluride co-directors Tom Luddy and Gary Meyer tout – well, nearly everything they've scheduled, with a special emphasis on the more obscure offerings. This year, partly because of the interruption in production occasioned by the writer's strike and the feared actor's strike in LA, there are fewer high-profile American films at Telluride, which famously premiered, among others, Oscar-fodder Brokeback Mountain, Walk the Line, Capote, and Juno. The few US films this year (in addition to Flash of Genius, based on the true story of the man who invented the intermittent windshield wiper, only to have it stolen from him by Ford, there's American Violet, also based on a true story about an young woman unjustly arrested on drug charges in Texas) are almost unknown quantities, outnumbered by foreign films both highly anticipated (Leigh's Happy-Go-Lucky) and obscure ( a four-film
tribute to Romanian film director Nae Caranfil, whose The Rest is Silence is this year's official Romanian entry for the Best Foreign Film Oscar).
After the briefing, I have the choice of descending the mountain via the beautiful vertiginous ski-lift gondola to see Nae Caranfil's Asphalt Tango or staying where I am and seeing Mike Leigh's Happy-Go-Lucky for the second time. My pal Mr. Lopate, whom I have not seen a movie with for several years, hasn't seen the Leigh, and so my choice is made. I like the Leigh even better the second time; in fact, I love it. I laugh. I cry. (Several times. Even going back down in the gondola.) Its beautiful ending makes me think of F. Scott Fitzgerald's "So we beat on, boats against the current, borne back ceaselessly into the past," and E.M. Forster's "Only connect," and Katharine Mansfield's "'Isn't life' she stammered, 'isn't life –' but what life was she couldn't quite explain. No matter. He quite understood. 'Isn't it, darling?' said Laurie," and other humanist platitudes.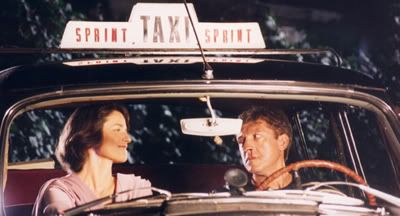 (Asphalt Tango)
5 p.m., and all the Telluride attendees gather on the main street (Colorado) of this exceedingly charming Western-set town for the Opening Night Feed. I was hoping for a Yugloslavian feast in honor of guest director Zizek, a Ljubljana native – rasznici! Cevapcici! – but we get an Italianate buffet: a salad of grape tomatoes and bocconcini, another that's Caesar-ish (I almost wrote Caesarian!), vegetable lasagna, chicken scallopini with mushrooms, flatbread topped with prosciutto and Parmesan. I snag a few big soft cookies – sugar, chocolate chip – on my way to the tribute to David Fincher in the charming 1913-vintage Sheridan Opera House, where the original Telluride Film Festival took place in its entirety in 1974. (Choosing among nine competing slots, including the documentary film Youssou Ndour: I Bring What I Love projected on the outside screen in Elks Park, followed by a concert performed by Ndour, live, is difficult indeed. Only the fact that Telluride repeats its programs several times makes choosing a possibility. But there isa lot of pain involved.)
There are well-chosen clips from Fincher's oeuvre – I'm especially intrigued by a very sexy 4-minute montage of his commercial and music video work, but even the movies I am not very fond of (The Game and Panic Room) look interesting in the context of Se7en, Fight Club, and Zodiac, which I've not seen but which is coincidentally not only waiting for me at home on the TiVo, but scheduled in a 167-minute director's cut at Telluride on the following night.) After an on-stage interview conducted by Todd McCarthy, the ex-Bay Area resident (Fincher lived in Marin County from '64 to '76, and returned to work with John Korty and in special effects at Lucasfilm) received Telluride's Silver Medallion. And then we were treated to 20 minutes of tantalizing, slightly nerve-wracking clips from his unreleased current project, The Curious Case of Benjamin Button, in which Brad Pitt is born looking aged and gets younger as his life continues, alongside Tilda Swinton and Cate Blanchett (who age in regular forward fashion).
(Gomorra)
After the tribute, I trek over to the Palm, Telluride's largest venue (all the theaters save the Sheridan and the Nugget are constructed from the ground up every year), inside the local high school, and see Gomorra, an excitingly-shot (in Steadicam you-are-there fashion) 135-minute epic about the contemporary criminal mob that rules Naples.
Two excellent movies, a well-produced tribute to an exciting director, dazzling scenery, and two delicious meals – all consumed in the company of film fans sufficiently addicted that they'll show up at 9,000 feet not knowing what they'll be seeing. Whatever difficulties are inherent in attending Telluride – it's not easy to reach, it's not inexpensive, and it goes by too fast! – there's a mantra I repeat whether driving many hours on a winding road from Denver or Albuquerque, or stalled in the Denver airport: "We must really love movies."