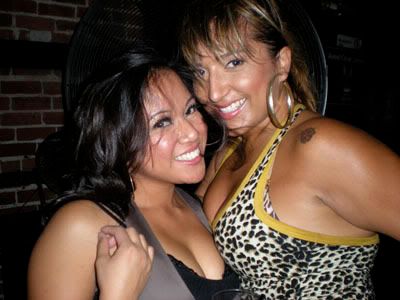 Feel the Bass
Voodoo Lounge, San Jose
August 30, 2008
Notes and Photos by Jackie Lopez
Better Than: Staying at some three-story gated community in San Jo doing absolutely nothing.
Every fifth Saturday of the month (well, when there is a fifth Saturday of the month), a hip hop group from the East Bay called the Fingerbangerz throw a party with DJs from Bay Area hip hop TV show Distortion 2 Static. On this particular Saturday at San Jose's Voodoo Lounge, DJs Dynamix and Deuce Ace welcomed DJ Haylow and Prince Aries, who spun some hip hop magic that complimented the balmy summer night.
Unlike San Francisco where the weather is cold and the ladies find some way to dress up in boots and long sleeves and still look fine with their hair done up, the SJ crowd managed to get down Vegas style in dresses and 5 inch heels. So if you're looking for a different crowd - and a different feel from crazy SF - drive your ass down to downtown San Jose on the weekends. It's kind of like the Gaslamp District in San Diego, with the crowd hopping from bar to bar. Just be wary of the damn San Jose police! You thought the city's cops was bad? These guys literally wait outside for the crowd, paddywagon and all, looking to pick up the next person who is conveniently "drunk in public."
As you probably know, the cops in San Francisco generally let you have a good time and for the most part leave you alone. Cops in San Jose give one reason to believe that superstition that there really is a quota that they have to meet. But it's more likely someone peed in their Corn Flakes, methinks.
But enough about the party poopers. The Voodoo Lounge itself was slammin' with a massive disco ball hanging from the ceiling, casting its lights on the crowd, which was composed of ladies shaking it to Estelle and Kanye's "American Boy."
Saturday's girls were so friendly I felt like they were ready to take me home for the night. I danced with two lovely ladies (Sara and Christine - pictured above) who wanted to stay behind the DJ booth for a while. (Full disclosure: I work with Distortion 2 Static on occasion.)
I think they liked the idea of the large fan blowing their hair around while DJ Deuce Ace took over the tables. They were so full of energy and excitement that I couldn't help but ask a security guard named TJ to let them stay on stage and dance. After all, they were giving quite a show.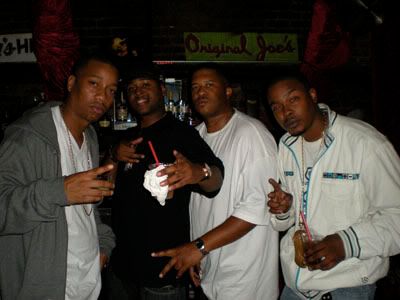 You'll find TJ inside Voodoo Lounge controlling the crowd three nights a week. Asked about this event he said, "[Feel the Bass] is always packed but I like it because there are never any fights at this one, which makes it a good night."
If you make your way through the packed crowd and head up the stairs, you'll find another bar up there. This one is manned by Maria. She's been the venue's bartender for over a year now and says she loves the craziness of it all. Ask her to make you a Red Bull Vodka with Grey Goose and she'll offer to make you a Red Bull Guava instead; which , if I may add, is off the hook.
I bumped into Planet Asia and crew at the upstairs bar too. He was chillin' with ProlifiCal, a rap group composed of Praduct and Drypht Avenue and yet another artist, Deiggo Redd. They're Fresno natives currently on with Little Brother, Flash Thompson, and Mikial of Green Sky music. If you can make your way to Santa Barbara on September 20, they're holding down their next show together at the Velvet Jones.
They gang was scoping Voodoo Lounge for Planet Asia's Sunday night performance to prepare the South Bay for his next album, "Pain Language" with DJ Muggs, set to drop on September 16th.
Anyway, here's the party in a nutshell: Crazy faded crowd. Good bartenders, which meant good drinks, which meant good times. The only downer was, it was a long drive home.
Critic's Notebook:
Personal Bias: That Maria made a very good drink for me, so everything was nice and fuzzy.
Random Detail: I don't know about those velvet seats scattered throughout the venue next to the bars and the dark and eerie corners of the place...
By the Way: I think some girls don't have the greatest friends if they're going to walk through a club with their flab hanging out and no one's saying anything to them. Because the heat wasn't -that- bad in the club.