By Janine Kahn
Ciao, Outside Lands. Don't know about the rest of you folks, but I'm glad to have my 38 Muni back. All weekend long the bus rumbled by, packed to the gills with festival goers. Everyone I squished in next to was pretty cheerful overall - save for a few of the little old ladies in the senior seats who looked rather perplexed about being in such close quarters with the sweaty, weed-drenched kids in Burning Man-esque attire.
Anyway, if you haven't kept your eye on All Shook Down's OL updates over the weekend, here's the nice, short, condensed version:
(Click the photo for a Day 1 slideshow by Christopher Victorio.)
On Friday, our Jennifer Maerz, Tyler Callister and Oscar Pascual headed to Golden Gate Park. Ty reports that the world is definitely overpopulated, and that the cool foggy fest "kick[ed] the shit out of blazing hot festivals that charge you six dollars for a test tube of water in the middle of the desert..." Some anonymous comment-leavers wondered what he was smoking and begged to disagree.
"This festival sucked... I've been to 3 Bonnaroos, 2 Coachellas, A Sasquatch and about half a dozen SXSW. This thing was a piece of shit."
Jennifer, our fair music editor, had a good time for the most part, though she notes that personal space was at a premium during Beck's appearance and documents the frustrating sound issues that plagued Radiohead's set.
Speaking of Radiohead's set, Oscar gives us the official unofficial set list.
Also on Friday:
Benjamin Wachs uploaded the second edition of his weekly "News & Booze" political podcast featuring bloggers Paul Hogarth, Sweet Melissa and
SFW
staff writer Joe Eskenazi. They discuss Gavin Newsom's shortcomings and why they'll probably still vote for him if he runs for governor -
while drinking Sapporo.
If you missed the first three-part podcast, scroll to the bottom of
this page.
(Click the photo for the Day 2 slideshow by Christopher Victorio.)
Saturday was all about Tom Petty for Jennifer Maerz, and it sounds like his set was a blast (if you ignore the smaller sound outages that reportedly occurred):
"For his set I wiggled my way towards the front, where fans were toasting beers and making eyes as they shouted the choruses to "Runnin' Down a Dream," "Free Fallin,'" "Learning to Fly," "Don't Come Around Here No More," and other hits spanning his 30-plus year career. Petty was in top form, looking sorta like a maniacal Dennis Hopper at times as he raised his arms into a Jesus pose and grinned real big for the crowd."
Read the rest of her review here.
(Photo by lardfr1)
Saturday was National Go Topless Protest Day, but you couldn't have known that walking around Outside Lands. Berkeley supposedly had a protest at noon, but we've yet to see any pictoral proof. A quick Flickr search unearths photos from LA and NY though - click here for some top-heavy protesters. And don't miss the chick whose boobage goes down to her waist.
Also on Saturday: Fashion hound Otto Chan photographed the lovely ladies at the Guess Marciano Fashion Show at Ana Mandara. Notes and slideshow to follow.
(Click the photo for the Day 3 slideshow by Christopher Victorio.)
On Sunday, Tyler Callister returned to Outside Lands and summed day 3 up thusly: "Andrew Bird is good, Jack Johnson is charming, and Wilco still plays too long." Full photo set to come.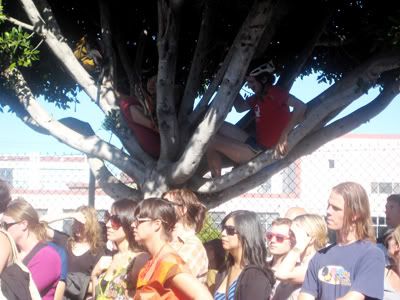 Also on Sunday: Yours truly wandered down to the Mission for the first annual Rock Make Street Fest and was pleased to see that OL hadn't ruined the turnout. People were climbing into trees to get above the throng in order to see locals Tartufi jam. Adult tutus were for sale, as were dog wings and vintage illustration jewelry. More on that here.