Photos by Christopher Victorio
Spiritual Healing, Petty & Winwood, and Free Mushrooms
By Jennifer Maerz
I doubt that Lupe Fiasco has a strong contingent of spiritual counselors at his shows. But when the Chicago rapper finally took the stage late on Saturday afternoon, the standout member of the crowd jam packed around his stage was a severely sunburned dude with a giant "Intuitive Healer & Spiritual Counselor" sign, looking for patients. People were too focused on Lupe's "Kick, Push" to get their spirits in line, though, and besides, they were busy following the rapper's suggestion for salvation, singing along loudly to "Hip-Hop Saved My Life."
Welcome to day two of Outside Lands, which was a little bit hippie, a little bit hip-hop, and a lot of classic rock 'n' roll.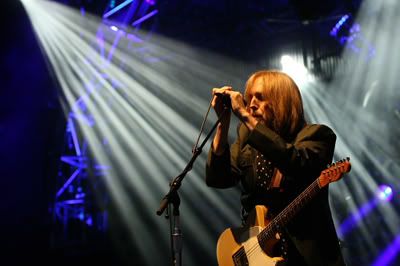 There were many "very San Francisco" moments at yesterday's concert, but the clincher for me happened during the Walkmen's set. There we were, standing next to a food stand where a "Mexican plate" and "Pesto roll" were all made of raw, mashed up nuts and twigs and things, when the young dudes around me pulled a random little baggie of brown bits off the ground. "Dude!" one guy exclaimed to his friend, "I just found a bag of mushrooms!"
Psychedelics definitely would've helped liven up the set by the Walkman, an act that is playing things way too safe these days. They're a band that has produced some really great singles -- "What's In It For Me," "The Rat," and "Hang on Siobhahn" are just a few that come to mind where frontman Hamilton Leithausern leads the band in some forceful melodies, twisting his voice into a striking howl. Yesterday's set was loaded with a number of new tracks off the latest Walkman release, You & Me; the songs never really take off, meandering instead in woeful melodies and mid-tempo pacing that made nearly every song sound plodding and repetitive.
The anticipated highlight for the day -- and for me personally, the entire weekend -- was Tom Petty, and luckily the man delivered (even when the sound occasionally didn't). Petty lorded over a fogged in meadow and inspired the crowd to join in one sing-along after the next. For his set I wiggled my way towards the front, where fans were toasting beers and making eyes as they shouted the choruses to "Runnin' Down a Dream," "Free Fallin,'" "Learning to Fly," "Don't Come Around Here No More," and other hits spanning his 30-plus year career. Petty was in top form, looking sorta like a maniacal Dennis Hopper at times as he raised his arms into a Jesus pose and grinned real big for the crowd.
My favorite Petty era is Damn the Torpedoes, but last night I have to say his covers really made the performance. Steve Winwood, who'd taken the stage earlier in the afternoon, joined Petty on "Can't Find My Way Home" (which Winwood originally recorded as a member of Blind Faith, and which I realized was the theme song for the end of the night, but more on that later) and another great oldie from Winwood, "Gimme Some Lovin'."
Petty also threw in a great cover of "Gloria," which the crowd raised its collective voice to help sing, but the song that I was most excited to hear (and which the frat boys around me were relentlessly requesting during the encore) was "American Girl," which Petty did as the final song of the night, and man did it sound great.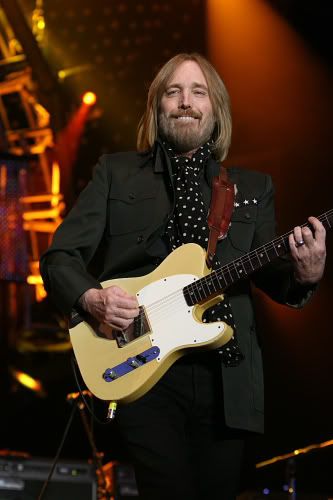 Overall Petty's set had fewer sound issues than Radiohead (who, during the previous night's set, played two songs in near silence as the sound just cut out completely), but he did face some frustrating issues. The volume went in and out on a couple songs, dying in places only to luckily come back to life a little later. And Petty was only a couple songs in when he had to take a preemptive break and walk off stage to let the generator rest so it wouldn't blow out during his set. (That's when he returned with Winwood so all ended well).
For the music and crowd I witnessed, though, I have few complaints. But I do have on big suggestion for next year: getting home from Outside Lands is a pain in the ass. When the night's over, and the crowd spills back into the park, there are a lot of lost souls who have no idea where they are or how long it takes to get where they want to go.(Backstage, a member of one of the performing acts was even complaining to me about how lost he got trying to leave the park after his ride home left him on foot). None of the exits are clearly marked with signs telling people what streets they lead to. I was repeatedly asked by drunks and sober folks alike how to the hell to get out of the park, or how long of a walk it was too Haight Street (which isn't a short trek -- it's a really nice walk in the warm fog, but it still takes a good 15 to 20 minutes from the main stage). For those unused to that much exercise, getting home is a long haul -- even when you do know where you're going.