Notes By Masha Rumer; Photos by Bob Toy
The summer has almost fizzled out, but one is yet to experience more than a day of downgraded clothing, urban sunbathing, and that sense of well-being when the sun dangerously caresses the epidermis and renews the happy brain cells. Wait till September, they say. Fine, I'll just sit here in my parka, alone in the dark.
Many a-newcomer to San Francisco is letting go of notions of the seasons. We drive somewhere far far away that one winter weekend in search of snow and exclaim, "Look, snow! Remember snow?" awkwardly; we burn "Pumpkin Pie/Red Dye # 7" scented candles to fake the autumn ambiance of colorful foliage. But it's the lack of a traditional summer that makes it easiest to feel cheated. When the weather is stuck at a constant throughout the year, memories of odorous armpits in a 105 degree subway during rush hour as well as of slipping on ice and falling on your derrière while people point grow fonder.
But not to Koos van den Akker, a legendary designer who's been dressing the likes of Elizabeth Taylor, Isabella Rossellini, Stevie Wonder and Madonna from the 70s on and was the creative force behind Bill Cosby's sweaters. This Netherlands-born designer, who has lived in New York City for 40 years, has recently pitched a workroom in San Francisco, at the Academy of Art University. And this summer artist-in-residence is in awe of the local fashion and climate.
"You can wonderfully combine two seasons in one," Koos, 70, says with unfeigned enthusiasm. "You can see a guy in a big sweater and knit cap and big boots on, with a girl on his arm with hot pants and a t-shirt."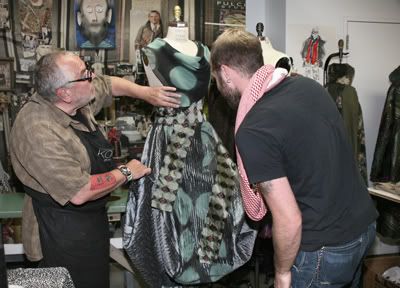 Koos is not phased by the fact that "Sex and the City" type dressing would probably not fly in San Francisco. Stilettos, as many discover, are not meant for walking on hills, and the whole strappy tank top thing doesn't work in the morning, in the evening, when it's windy, and during most other times.
Rather, Koos finds that having "a whole wardrobe in the back of the car" is a bonus.
To him, our frontier's fashion is more creative than in New York ("except for the Village and stuff like that," he adds). "People look much more put together and individually dressed than in New York. New York is a bitch. You can't make mistakes," he says, with his signature friendly bluntness.
Nature was a major inspiration during his June-August stay, including the mist and the "beautiful clouds that obscure half the neighborhoods." In response, he gave his students homework to make collages of mist over buildings.
California cacti were another inspiration, sending Koos to design new garments for his collection, to be sold at his boutique on Madison Avenue in New York's Upper East Side.
Over the last several decades, Koos's elaborate collage and patchwork designs that marry colors, fabrics and textures have had a cult following. Through the fashion highs and lows, his garments have been worn by celebrities, exhibited at the Metropolitan Museum of Art and Fashion Institute of Technology in New York, and sold at Saks Fifth Avenue and Bloomingdale's. To add to the A-list, Koos had a party thrown for him at Studio 54 and won fashion awards.
Yet he makes all garments for his New York boutique by hand, with the help of assistants. In San Francisco this summer, Koos still managed to produce one or two garments per day and help students.
Always behind his sewing machine, Koos is a craftsman and name-throwing is not his thing. "I find it so boring and unimportant in my case," he retorts when asked about fancy customers today. "(If the) quality of work has to be measured by a fancy name, then I'm already out of the loop because I really don't give a shit."
Koos's San Francisco stint inspired him to want to teach alongside his craft. "I've always been very private with my work. Now I want to come out and show it to the kids. I had a great time with those kids and I didn't feel a day older than they are," he says.
This new path prompted Koos to get a tattoo on his forearm, spelling "New Beginnings" in Chinese characters.
He is set to return to the Academy of Art next summer and continue using his workroom there, adorned with photo wallpaper depicting his New York atelier, with photographs, mannequins and colorful fabrics strewn in creative disarray. "It's nice to have an affair with San Francisco," he says.