On Friday night, Lauren Smiley quit documenting the Best Buck in the Bay pre-rodeo party at Space 550 and joined hands with some 20 cowboy hat-wearing gay and trans-folk for a spirited barn dance. "Wow! A real woman!" one exclaimed. Read Lauren's notes and see some steamy shots of a calendar right outta Brokeback Mountain here.
Oscar Pascual spent all of Saturday rocking those bells at the Shoreline Amphitheatre. He cautions us about showing up to the hip-hop fest too early:
"There's just something wrong with hip-hop in the morning. 10 a.m. is too early to be throwing your hands in the air as if you just don't care while screaming "Ho!" at the top of your lungs..."
Read Oscar's full Rock the Bells review here. And see his awesome front row shots too.
Speaking of Rock the Bells, Jackie Lopez (the latest addition to the ASD family) tells us the road trip back was a clusterfuck. But the official after party at the Mezzanine was well worth the frustration. It was apparently all too easy to run into some big hip-hop names:
"...you didn't need to be upstairs or in the VIP room in order to see the artists. They were everywhere. Spank Rock was just wandering around. De La Soul was at the bar getting more drinks. Jay Electronica hung around outside for a minute talking to some folks..."
Read the rest here. Jackie wasn't allowed to take photos, but she snuck a few of the packed floor in.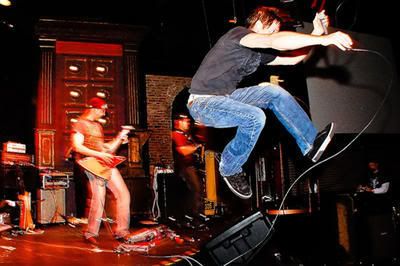 Also on Saturday: Photographers Mike and Jen Cash caught Fighting the Villain, Swamp Donky and Letters to Ruin at Broadway Studios. The lighting and energy onstage made for some killer shots. Full photo set here.
On Sunday, Sam Heller got a dose of comedy, burlesque and Scotty the Blue Bunny at the Red Devil Lounge. The Jews and gentiles in the crowd were falling over their barstools in laughter as they soaked up Nice Jewish Girls Gone Bad. See Sam's photos here.
Also on Sunday: Mike and Jen shot the most interesting fashion show we've seen yet. Local artists took the Burning Man theme and spun it into pieces that would probably make your grandmother squint. Prepare for the Playa here.
--Janine Kahn