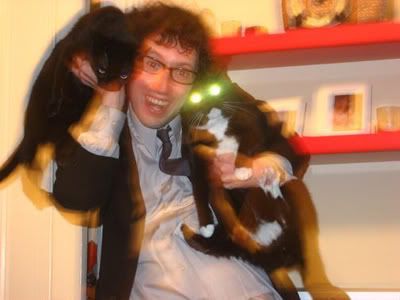 Name: Paul Costuros aka Paul Paul a.k.a. Special Lord B.
Club nights: Saturday Night Soul Party, Club Internationale', Girl Groups Night, Lost & Found, Ska War.
Style of music you spin: 60's Soul, R&B, Oldies, International Soul/Funk/Disco/Pop/Go-go/Jazz/garage/Rock-n-Roll/, Girl Groups, Jamaican/2tone ska, Rocksteady, among others.
As a soul DJ, we should ask, what's your reaction to Isaac Hayes' death?
We are all in debt to him for all he did for soul music, independent labels and for musicians in the the 60's and 70's and of course he was an incredible songwriter and performer. It sucks he died, though I'm sure he's in a better place doing whatever it is Scientologists do after they die, he will likely be reincarnated i think, perhaps into a celebrity baby. He was also great as The Duke in the hit film "Escape From New York."
How and when did you first start DJing soul music?
In 2003 we started at the Bigfoot Lodge. Lucky had asked Phengren Oswald and I if we wanted to DJ soul with him there. We were playing all eras of soul then, even some rocksteady too. The agreement was that we would play in exchange for free cans of Hamms beer. We usually were cut off of the free beer by 11pm. There was no dance floor there either and the sound wasn't very good, so when Donovan from the Casanova asked us to take a Sunday we jumped at the chance. He asked us to play 60's Soul so we narrowed down our cuts and started only playing 45s.
Why do you think that style of music has such traction in the Bay Area?
Well I think it has traction everywhere really. The scene seems to fluctuate in popularity. Before we were around there were plenty of others and the scene was really popular in the late 90's among the more traditional Mods, skinheads, Soulies, Rudeboys, what have you. It's such beautiful music and it was made for dancing so it's no surprise that people respond the way they do. We are one of the only major cities that doesn't have the traditional "All-Nighter" soul parties though, we're hoping to make that change.
How has Saturday Night Soul Party changed over time?
It just keeps getting better and better. We started at a bar with no dance floor on a Sunday, moved to a bigger and better bar with a small dance floor on a Sunday and now we are at a proper nightclub with a powerful sound system and proper wooden dance floor on two Saturdays out of the month. We keep buying new records and playing the ones that tend to make peoples heads explode on the dance floor. Our most recent change was our dress code policy, which has been a huge success. Basically if you dress up, you pay less to get in. The regulars love it, it allows for more room to dance because there are less people (it was becoming way too packed for everyones comfort level) and everyone looks super fancy. It also limits the dudes who could care less about the music or dancing that would come just to try to pick up on the ladies that come to dance. Plus dressing up makes going out dancing on a Saturday night much more fun and more like an event.
Dream DJ partner: I have been very lucky in that all the people I DJ with I really love. I look forward to every gig. They all inspire and challenge me and each event feels like a party! We are all friends first, Dj partners 2nd. Though I wouldn't turn down the chance to time machine back to the early sound systems in Jamaica and watch Clement "Coxsone" Dodd and Duke Reid go nuts on the decks!
Favorite DJ experience: For 2007 New Years Eve we bought 300 pairs of X-Ray Spex and gave them out at the door. We also had about 6000 balloons to drop. Seeing a sea of people wearing the glasses being drenched with a hail storm of balloons was pretty great!
Worst request: There are so so many. At our soul party we always get asked to play things so off the mark. Coldplay, We Are The World. We also get requests for soul songs that would be totally inappropriate for the moments. We'll be tearing holes in the floor with total barn burner floor stompers building up momentum and someone will come up and ask us to play Barry White, who we all love, but geez, you wanna see the whole dance floor stop on a dime play a long slow love song. We usually reserve the slow songs for the end of the night or sometimes after playing tons of fast jams to give people a rest. We also get weary of giving shout outs for people's birthdays, there tend to be about 30 a night sometimes.
Most treasured vinyl score: Not soul-related, but I got a copy of Albert Ayler's Bells on ESP-Disk silk screened color vinyl from 1965 on ebay for $9.99 because someone listed it wrong as a Christmas album. Usually goes for $100-200.
Musical mantra: Non-Stop-Body-Roc-LAZERFACE!
New projects you're currently working on: I'm trying to get Skip Donahue to come out and do another gig. He is this amazing old guy from the late '70s LA New Wave scene. He claims to have coined the phrase. He rarely comes out, but his collection of rare new wave is amazing. We got him out a couple years ago to DJ at the Casanova, sadly, few people attended.
Question we didn't ask you but you often ask yourself: Do you actually call yourself a Dj even though you don't beat match, scratch or mix?! A: I'm more like the drunk guy playing records on his home stereo at a house party, which is kinda how I got started.
Next time we can see you spin: Saturday Aug 16th, 10pm at the Elbo Room for Soul Party, then Aug 19th at the Casanova for Girl Groups Night.