Glay
The Fillmore
August 12, 2008
Review by Kirsty Evans
It's odd that it took so long for a mainstream Japanese band to make it over to America.
For those who haven't been paying attention, the last couple of years have witnessed a veritable invasion of Japanese bands into the American live music scene. First to stick their toes in the water were gods of the underground Dir en grey, who've had a dedicated base of hardcore fans in the USA for years, just waiting for them to finally make it over here. After they ventured successfully onto the summer festival circuit and managed to mostly sell out a headlining tour, others followed. So far it's been mostly bands of the Visual Kei variety, and variations thereof (think dark and spooky with a touch of gender bending), as well as a selected few avant-garde favorites like Boris and Melt Banana, and a handful of bands with an anime tie-in like The Pillows. Bands, in other words, who owe their success in American largely to their being tied in with a variety of subcultures. Bands who aren't mainstream and never will be even back home.
This Glay mini-tour is the first real attempt to break that pattern. Massively successful in Japan, with the third best selling album in Japanese history and such a major presence that three out of the four band members have their own radio shows, Glay are nothing if not mainstream. Their music is upbeat, happy pop rock, the kind of music that mainstream radio stations love, the kind that you can play in the car and have dad, kids and grandma all happily sing along to.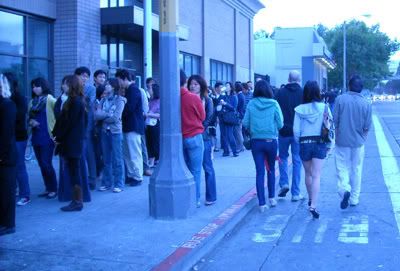 Despite being interested in the Japanese rock, metal and punk scenes for over 10 years, your reporter has to admit that she's never paid much attention to Glay. They're just too damn happy for me, too positive, too resolutely mainstream. I don't like the British or American versions of that kind of music, why would I like the Japanese version?
And yet, I have to admit, at the Fillmore they won me over. That's the thing about bands that are old pros – they know how to work a crowd, any kind of crowd.
Not that the crowd last night needed much winning over. It has to be said, it was nice to see adults at a Jrock show in America. Most of the bands that have made it over so far are riding the wave of the Hot Topic crowd – goth, emo and punk kids. Most of the people who turned up to see Glay were definitely not the latter. Instead the crowd was mostly made up of Japanese American folks in their 20s and 30s – people, in other words, who've probably known about Glay and have been hoping they would eventually make it over here for a long time. I saw a lot of couples cuddling cutely during the ballads, and even a few people in their 50s up in the balcony. There was none of the mad push towards the stage that usually happens at JRock shows – the crowd was orderly, polite and overall, well…nice.
Glay certainly gave the crowd what they came for. They ran through a varied set list that pulled songs from throughout their long career - all the favorites that the crowd was waiting to hear were there, though I was surprised that "Coyote Colored Darkness" didn't make the cut. The show opened with new single "Verb," and there were a couple of songs from 2007's "Love Is Beautiful" album, but the band didn't neglect their loyal fans, making sure to throw in plenty of older tracks to keep them happy. Even though they played "Verb," you didn't get the sense that the current tour was designed just to promote new releases at all. Overall it seemed like the band were actually thinking of what would make the audience happy, which is a sadly rare phenomenon these days. The Fillmore show felt like a gift to the loyal fans, and you could tell that the crowd appreciated it.
I was surprised by how much more rock Glay sound live than they do on record. Other than the ballads, the overall vibe of the show was happy, positive rock more than pop. The sound was tight and clearly well-rehearsed, and the band moved around enough to make sure that all the fans got a chance to catch a few glimpses of their favorite member. Everyone got their turn in the spotlight, though I have to say, bassist Jiro stole the show when he briefly took over the microphone. He is quite possibly the cutest man I have ever seen. I loved the Sonic-style hair, though I couldn't help but wonder just how much gel it takes to make the spikes stay in place throughout an entire show, and how he gets it out afterwards. The two guitarist seemed to spend the entire show attempting to out-cool each other (for the record, Hisashi won, only because it takes some real personality to pull off that jacket – bell sleeve on one side and no sleeve at all on the other?), and singer Teru danced around so much he was dripping with sweat by the time the encore came around. All in all, they put on a hell of a show.
They finished up with an encore including a cover of David Bowie's "Suffragette City." Any band that appreciates Bowie gets bonus points from me. The audience really didn't want them to leave, and Teru kept promising that they were going to be back. So, guys, when's it going to be?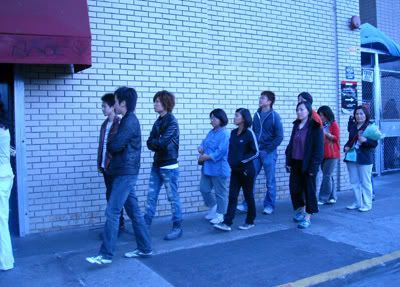 Critic's Notebook
Personal Bias: I was so distracted by how ridiculously adorable the bass player was that I may have, um, missed some of what the other guys were doing.
Random Detail: Found myself sitting next to a young Japanese couple who were trying to figure out how to get to the Fillmore on the 38 Geary on my way to the show. What are the odds?
By the Way: We weren't allowed to take photos of the band, but their publicist promised they'd send a few later today.