(Click the image for the full "Blow Up" photo set.)
Blow Up
Rickshaw Stop
August 8, 2008
Notes and Photos by Crystal Akins
The baby bust generation had Studio 54. Today, partners in crime Richie Panic and Jeffrey Paradise are bringing Echo Boomers into the millennium with Blow Up every Friday night at The Rickshaw Stop.
Hosted by your favorite tranny, Monistat, last Friday's party also included DJs Le Dinosaur, Vin Sol, Acid Girls, and of course the dynamic duo of Panic and Paradise. In its infancy, this party was only thrown once a month, but because they were always turning away your tardy friends, the pair decided to give the masses what they want, bringing us this party every week.
But it's no surprise this weekly rager still attracts an upwards of 200+ people; it's hard not to miss the smokers, loiterers, and photographers lingering in front of the venue. Even if you miss the modest "Rickshaw Stop" blinking light in the window, you know how the flyers for the event bombard your MySpace bulletin board, giving you no excuse to not show up. Besides, this party lives up to its name and has done so for the past couple of years.
Dance on the stage, dance on the floor, or dance upstairs because two-story spot gives the crowd ample room to work it out. Although poorly ventilated and often infused with the scent of sweat, you can always step outside for a smoke or breather to get your hot mess together. Or if you don't want to battle the crowd of dancers, step upstairs and light up a cig in the window-less smoke room if you don't suffocate and pass out first. Don't forget to stay hydrated with the free water located at the end of the bar.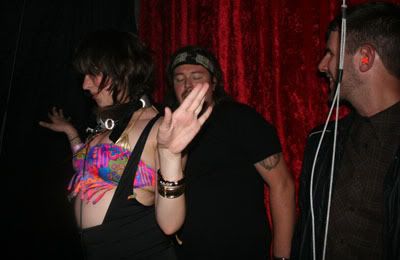 Being the pioneers of hipster dance parties, this party also extends its hand out to youngsters, meaning you're not jailbait, and over the age of 18. How do we know you're 18 and can't drink? The doorman happily blacklists you with the huge dreaded Xs on both hands with a black sharpie. But don't be shy, this party has "blown up" so much that it attracts a crowd from various walks of life.
And what is the Rickshaw Stop without actual rickshaws? Used as seating, the squeaky, vintage rickshaws are the perfect place to have an intimate conversation if you can hear each other over the music (some people actually manage).
Blow Up has also worked out the kinks. If you travel upstairs, a coat check keeps your valuables until the end of the night, and all you have to do is keep your claim ticket safe. Not only is this better than stashing your bag into some enclave and worrying about it getting stolen or smashed, but the lady is nice enough to let you grab stuff throughout the evening.
After dancing up a storm, the crowd filters out around 1:45 a.m. and you're so hot the cold air feels good. Call a cab, walk home, or do whatever but remember to grab your stuff before leaving.
Some Do's and Don'ts:
Do: make sure to look hot. I'm serious this time.
Don't: dance on the stage if you're so wasted you start bringing others down with
you.
Critic's Notebook:
Personal Bias: I like to dance.
Random Detail: what's with the mountain bike hanging from the ceiling?
By the way: It costs $15 for 18+ and only $10 for 21+