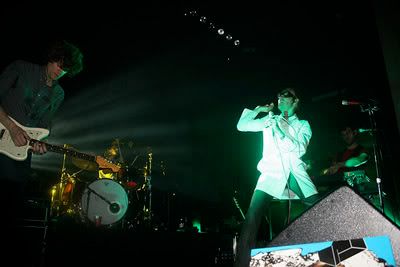 The Faint
The Grand Ballroom
August 5, 2008
Review and Photos by Crystal Akins
Nebraska's The Faint gave fans a reason to rage and "danse macabre" under the teardrop chandeliers at the elegant Grand Ballroom Tuesday night. Dressed in his white lab coat and goggles (perhaps a tribute to Dr. Horrible), lead singer Todd Fink sang to a full house at their encore performance as a light rain slicked the streets of San Francisco.
While The Faint's new album, "Fasciinatiion," just made its debut, they still know what their fans want; they want to hear and lose themselves to "I Disappear," "Glass Danse," and "Worked Up So Sexual." Playing a balanced mix of old and new songs, Tuesday night's show (dare I say) was one of the best investments fans could have made for the year.
Photographers from various publications in attendance were marked by their glittery green bracelets. Somehow, my bracelet caught the eye of a psycho super-fan that claimed she: A) was with me (not true), B) was taking photos for some illegitimate reasons (like her own personal collection), and C) had dated one of the members from the band (most likely false). For a brief moment, she convinced the security guard to let her past the barrier while she pointed at me. I stood their aghast, asked her what she was doing, and proceeded to tell the guard that she was a bona fide looney tune.
But even before the superfan fiasco, photographers were told they could take photos backstage but, "do not pass the wires or lights!" When the first song came to an end, the real photographers slid passed security, through the door, and onto the side of the stage while the fan was left behind. Photographers were escorted around the venue to take photos backstage and around the horseshoe-shaped balcony. I ran into the faux photog a second time on the balcony, and I diverted my eyes as the situation became awkward and uncomfortable. Obsessions scare me.
Fast forward.
Neon purple, green, and yellow lights illuminated the stage while invigorated teeny boppers egged The Faint on for more. With their synthesizers, gizmos and gadgets, the band's newer songs still exhibit the indie-electro sound we've grown to love, and happily matched the crowd's enthusiasm with their zeal.
Opening band, Shy Child, warmed up early birds with their keytar and drum duo. Halfway through their set, the audience seemed entertained while the lead singer deep throated, sweat, and spit his lyrics into the microphone with his high pitched vocals.
Overall, the show was worth calling in sick to work the next day.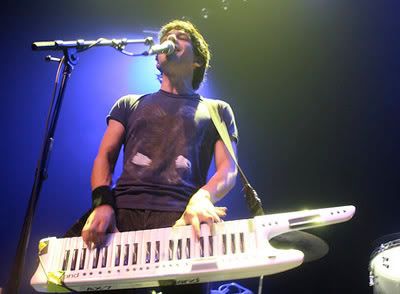 Critic's Notebook:
Personal Bias: True story: I took the time and imported all my CDs of The Faint to iTunes. Dedicated.
Random Detail: "Will" - with, not from - The Faint personally called me about my notebook I'd left on stage.
By the way: the new album was released on August 5th.