Trivia Night
Edinburgh Castle
July 29, 2008
Notes and Photos by Crystal Akins
Better than: Jeopardy
A chilly San Francisco evening didn't stop old and newcomers from coming out to Edinburgh Castle's trivia night.
"It's like taking the SATs over and over again, but this time you get to drink," said the Quiz Master, Carl Gibbs.
The Scottish pub has been hosting trivia night since 1999 but has only been under Gibb's reign since 2003. The questions? A medley of pop culture, current events, and music. Composed of seven rounds, groups or individuals are invited to compete for cash prizes, drink tickets, and more importantly: bragging rights. Gibbs, with an inviting voice, took center stage under the spotlight and briefed the crowd before each round and let 'er rip.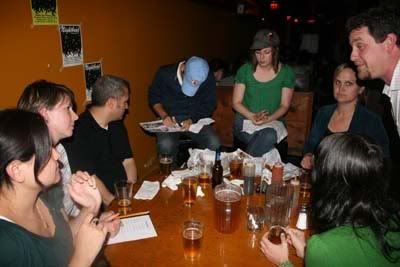 "How much have San Francisco's parking fees gone up? Answer, $10. It's only two beers to double park," said Gibbs.
In a full house, teams huddled together and brainstormed for the three rounds on topics that challenged their knowledge on Saturday Night Live, music, and prominent historical figures -- concurrently. Last night was saturated with eyes shifting side to side and whispering answers to each other. Quiz junkies were politely instructed by Gibbs to identify songs while they played, photos of Karl Marx or Marilyn Monroe, and finally SNL actors. Upon completion, the sheets were graded by Gibbs after each round, giving patrons enough time to grab another beer or order fish and chips from the pretty waitress floating around.
The bar itself ignites a rustic feel with its wooden seating booths, Scottish paraphernalia, and the ubiquitous pitchers of beer. In case you can't find seating on the lower level, the bar has a quaint second story where a extra few tables greet you. While Gibbs read the answers to each round, barflies leaned over the rail and listened patiently.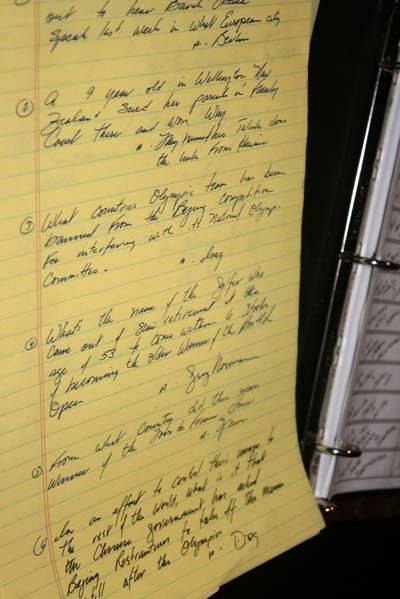 Bar manager Alan Black described the bar as being a survivor (dating back to the 1950s). Getting a quote from Black is like pulling teeth, but when asked to describe the crowd he responded "this," and jokingly said: "We have a zero tolerance for a--holes so don't come if you're an a--hole."
Black was riddled with sarcasm and I appreciated every minute of it.
As trivia night came to an end, Gibbs quickly announced the winners and offered them their prizes. First place was awarded $50 cash while second and third places received drink tickets. The crowd filtered out rather quickly after the awards ceremony.
Critic's Notebook:
Personal Bias: Any ode to high school quizzes, group work, and SAT formatted questions are a good time.
Random Detail: the upper level seating was blocked off for safety reasons but re-opens for trivia night.
By the way: The smoking room is closed indefinitely until the correct permits are obtained.