Burning Man ParticiParade on Haight Street
Haight Street
July 27, 2008
Notes and Photos by Edward Paik
It's a familiar sight for Joe Ghbullock: the cross-dressed enthusiasts in spangled unitards, top hats that contrast kaleidoscope wigs, neon fishnets worn without proper undergarments - they're his thing. The only problem with the Burning Man spirit and spectacular, in Ghbullock's not-so-humble opinion, is that there isn't enough of it.
But the 14-year Burning Man veteran feels that Black Rock City - his home turf, and the festival's home base - is losing it. Ghbullock's solution: marching up Haight Street Sunday afternoon in downtown San Francisco, where Burning Man began in 1986, to enlist anyone to continue a message of participation. Ghbullock calls it the "Burning Man ParticiParade."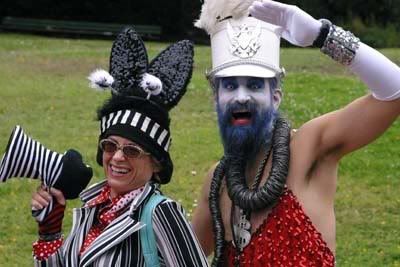 "There's a resurrection theme, and attitude of 'No Spectators,'" said Ghbullock at the 4th annual event.
The ParticiParade was formed via mayoral proclamation in 1997 by former Mayor Willie Brown, deeming July 31st as "No Spectators Day." The day carries Burning Man's theme of participation and has evolved into a weekend celebration.
A half-mile walk through upper Haight Street to a merry-go-round, the Blackrock Roller Disco, with random stops at undisclosed locations, the parade is meant to re-inspire fun.
"It has gotten a bit more commercial on Haight Street. [The parade] just brings back a little bit more energy, the very energy that founded it," said $teven Ra$pa, special events and arts producer of Burning Man. "It carries the legacy of Haight Street."
With mic in hand, Ghbullock speaks through the system on his red Radio Flyer wagon to everyone within earshot: "Join the ParticiParade!"
Though last year's gathering brought an estimate of 40 people, this year's crowd may have been deterred by the chilly weather, said Ra$pa, arms crossed to shield his red, white and blue unitard.
This year's theme of the "American Dream" was apparent in some lucrative costumes. Ra$pa himself was also adorned with a marching cap and plastic chain of a dollar sign, to symbolize corporate America. Barcode Betty wore a stripped black and white vest: "Because America's barcodes and betting."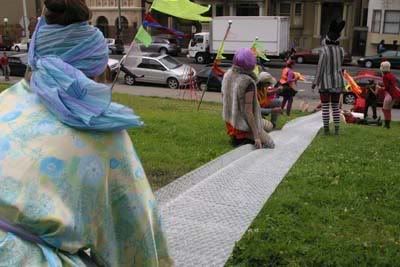 Before the march, minions enlisted by a tree at the entrance of Buena Vista Park and performed the pre-route ritual of tumbling, sliding or rolling down 40 feet of commercial bubble tape. According to Betty, everyone was a winner.
"This is your 15 minutes of fame," said Ghbullock, as a bus stalled in the streets, its tourists flashing cameras.
The sidewalk adventure would include a can-can kick line near the "stripper legs" on the Haight, and a carousel ride.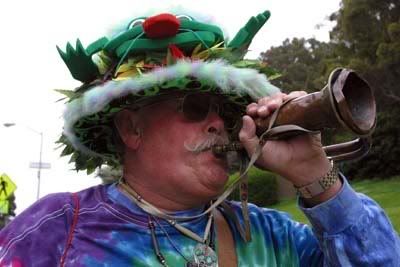 The scene of Burning Man may have changed, but the spirit remains the same.
"To me [Burning Man] is a place where people can find self liberation and in the process find community. They become empowered to bring the experience back to the rest of the world and their life," said Ra$pa.
By the Way: A random participant, holding a Miller Genuine "seat," would yell at the bottom of his bubble tape tumble: "Man, that's better than two pints of Guinness!"