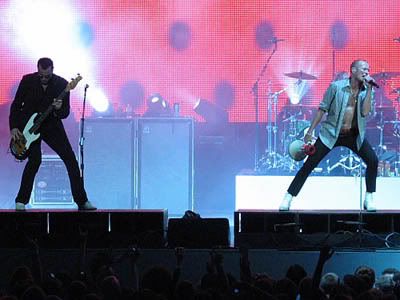 Friday: Crystal Akins encounters hostile concert-goers (and yes, stoners) on the Greek's grassy knoll on her quest to get a better glimpse of the Stone Temple Pilots. For the most part, the show sounded like a good time. Crystal writes:
"[Scott] Weiland's sexy swagger and Iggy Pop-like dance moves unintentionally grabbed the crowd's attention and wouldn't let go. Despite the singer's various hiccups with the law and drugs, his performance is the epitome of rock and roll. Besides, drugs and jail time are what rock stars are made of."
Read the entire review (with photos from a point-and-shoot since STP's meano tour manager decided to deny all but one photographer access) over here.
Also on Friday: ASD's husband-wife photo team Mike and Jen Cash infiltrate Club Boss for "Reality Overdose," featuring D-List celebs from MTV's "The Real World." See more photos here.
Yet More Friday Action: Obamamite Alex Brant-Zawadzki rocks out with his Barack out at the Independent for the 4th Annual Afrofunk Festival (a.k.a "Yes We Can" Tour). There he found an even bigger Obama fan in Erin (pictured). Read all about that here.
Saturday: Veteran soundman Jeff Sherman is as anal as Steely Dan is about their sound and nitpickily documents the band's Saturday Greek set. Read the review, sprinkled with photos by Christopher Victorio, here.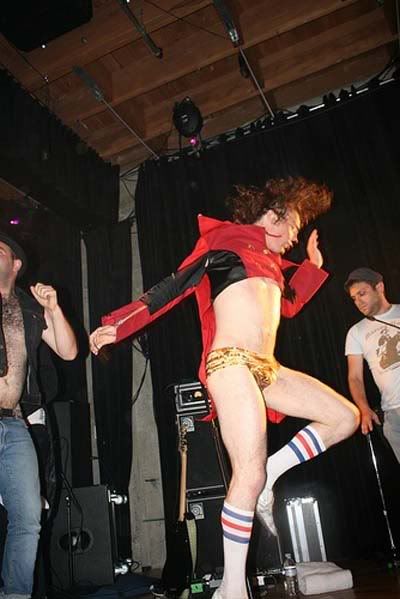 More Saturday: Crystal Akins waits three -bleepin'- hours for Hercules and Love Affair to take the stage at the Mezzanine. And was the show worth the wait and $6 vodkas? Noooope.
Sunday: Sam Heller sees more aging naked flesh and leather than he wants on Folsom Street for the "Up Your Alley" festival. Relive the fun by flipping through his shots here.
Still Sunday: Comic-Con 2008 wrapped itself up in San Diego. Our SoCal correspondent Luke Thompson sends us photos of the best costumes, which you can view here. --Janine Kahn