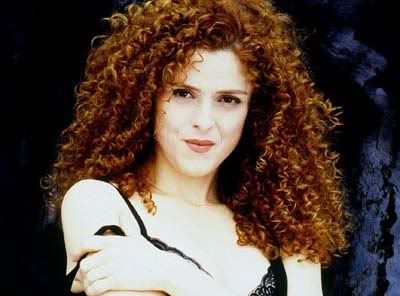 Bernadette Peters with the San Francisco Symphony
Davies Symphony Hall
July 25, 2008
Review By Meredith Brody
The music was loud, the beat insistent, and the audience was totally with it: I swear I could feel my endorphins rise as I listened. It was a soul music concert, and I forget whether it was during Isaac Hayes' set, or Wilson Pickett's, or Carla Thomas', that I said to myself, "I really must get out and enjoy live music more often."
And then I laughed. Because I was not at a concert, I was watching a movie -- Only the Strong Survive, by Chris Hegedus and D.A. Pennebaker, a 2002 documentary about Stax Records, during a Leacock-Pennebaker tribute by Sf State's Documentary Film Institute.
But since that revelatory "Is it live or is it Memorex?" moment, I have, indeed, felt the healing power of live music somewhat more frequently. The most recent revival meeting I attended, with gratifying results, was a gathering of the faithful at Bernadette Peters' appearance with the San Francisco Symphony on Friday, July 25, in Davies Symphony Hall. There was a little curtain-raiser – well, actually, there were two: as we entered the lobby, a lively little band was playing tunes from the Great American Songbook, and a few intrepid couples were actually dancing. And then the impressive San Francisco Symphony played a brief set of the kind of tunes associated with orchestras like the San Francisco Pops, who under Arthur Fiedler played summer concerts in the Civic Auditorium from 1949 until the mid-Seventies, complete with table seating, where you could imbibe beer, soft drinks, and stale cellophane-wrapped pound cake.
The appearance of Edwin Outwater, resident conductor of the San Francisco Symphony from 2001—2006 and now Music Director of the Kitchener-Waterloo Symphony in Ontario, Canada, in a white shirt and dark tie, and close-fitting black vest over shiny grey trousers with prominent back pockets (needing only sleeve garters to evoke a riverboat gambler), elicited appreciative murmurs from the audience – something like wolf-whistles pitched so high that only a dog could hear them. He led the orchestra (introduced as "Your San Francisco Symphony!," which sounded exactly like how the Giants are introduced at AT&T Park) through lively, impeccable renditions of selections from West Side Story, by Leonard Bernstein (whose unheard lyrics were, of course, by the evening's presiding saint, Stephen Sondheim); Morton Gould's jazzy Pavanne from American Symphonette No. 2; Jule Styne's "Everything's Coming Up Roses" from Gypsy (with, again, unheard lyrics by Sondheim; the Waltz Suite from A Little Night Music, with music and lyrics by Mr. Sondheim, again. And the somewhat out-of-place kicker, an arrangement of Brian Setzer's Rock This Town, which didn't rock me, but sent the crowd intermission-wards happily.
I snagged a meat-and-cheese plastic box from the food kiosk (quite nice, really: 2 slices mortadella, 2 slices salami, chunks of Brie, blue, and a Jack-type cheese, grapes, olives, ja;apeno peppers, some sliced baguette, and crackers gone moist and limp and discardable, $12), and enjoyed it on the terrace, overhearing people talking about how cute Edwin Outwater was.
And then the main (mane, given her corona of gingery corkscrew curls) event: the adorable Miss Peters, in either Bob Mackie or Bob Mackie-esque spaghetti-strap bronze sequins (matching the curls) with the requisite plunging neckline and slit-up-to-there. She's tiny, but she commands the stage. (And has since she was three years old.) Plugging (mildly) her new book, Broadway Barks, named after an organization she co-founded with Mary Tyler Moore to find homes for abandoned animals, and mentioning in humorous asides that she had a house for sale in Florida, she warmed up an audience that needed little warming up for her repetoire, ranging from songs not previously sung by her in musicals she'd appeared in ("No One is Alone," from Sondheim's Into the Woods) to songs usually sung by men ("There is Nothing Like a Dame", and "Some Enchanted Evening," from South Pacific) to wild cards like a Michelle-Pfeiffer-Fabulous-Baker-Boys rolling-around-the-top-of-a-grand-piano interpretation of Peggy Lee's Fever, an unexpected and unexpectedly slow version of "Shenandoah", and a literal and entrancing rendition of "When You Wish Upon a Star," from Disney's Pinocchio, which she said was inspired by a recent concert at LA's Disney Hall. (Playing drums, coincidentally, for her tour is ex-original Mouseketeer Cubby O'Brien.)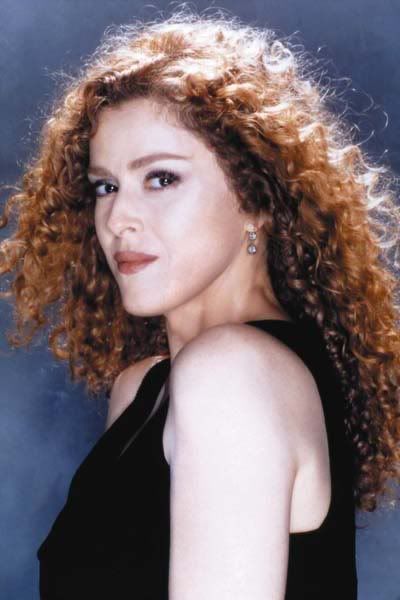 In a week when I'd already been reminded of the healing power of music (by The Drowsy Chaperone, both because I loved it and because the Man in the Chair character said there was nothing like music to cheer you up when you're blue (and I was verging on cerulean), Bernadette Peters (and her musical director Marvin Laird, and Your San Francisco Symphony Audience) was doing the trick.
Although Sondheim had already opened the show, an eerily organ-introduced "Joanna" (again, sung by a man in Sweeney Todd) introduced the last section of the show, dedicated to the work of the man she said was "a national treasure to me – to everyone, I believe," "Not a Day Goes By," from Merrily We Roll Along, "You Could Drive a Person Crazy," from Company, "With So Little to Be Sure Of," from Anyone Can Whistle, "Children Will Listen," from Into the Woods, and a painful yet rousing "Being Alive," again from Company, the putative closing number.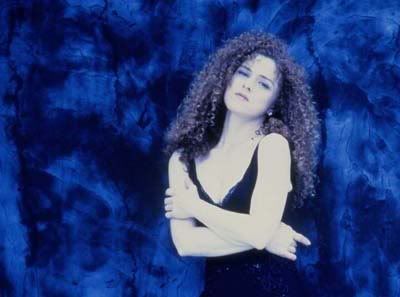 She wisely calmed the standing audience, baying for her return, with a charming little lullaby named after her dog, "Kramer's Song," she'd composed – her first such venture-- to help promote both the charity and her book. (Another performance, recorded by a fan in another audience, shows her in the same dress she wore in San Francisco.) The lyrics ("Goodnight, my friend,") sent people out into the night, eager to buy the CDs in the San Francisco Symphony's little store. I myself would even buy a Bernadette Peters doll, if there were one available. Preferably with a chip loaded with some of her iconic performances and movie utterances, such as my single favorite line reading of hers, from The Jerk: when Navin Johnson (Steve Martin) asks her if she's going to miss the money after they've been financially ruined, she pouts and says "No, I'm gonna miss the stuff."
I miss Bernadette Peters already.