Parade of Sail
San Francisco Bay
July 23, 2008
Notes and Photos by Edward Paik
Tall ships streamed into San Francisco Bay around noon Wednesday, at speeds that rivaled pedestrians walking along the Embarcadero. Firing the cannon without actual ammunition, the San Francisco Maritime National Park Association (which produced the event) sparked curiosity in passersby.
A fleet of 32 tall ships (and a good deal of smaller ones) invaded our polluted shores to begin the Festival of Sail, a five-day odyssey of funs and smarts celebrating our seafaring past.
(More photos beneath the fold!)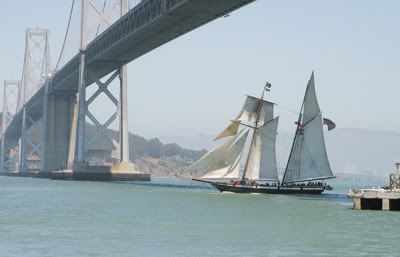 The festival will include a pirate circus, mock cannon battles, cruises and history lessons. Though the admission is free, an all-day boarding pass will cost $20 and sails will range from $65 to $85 -- the circus will require purchased tickets as well. (Boarding is free for children under 5.) Attractions will be split into three villages: Marine Education (Hyde Street Pier), International (Piers 1-9) and Green (Piers 30-40).
Though the fest could shed weight off your wallet, the Parade of Sail was free to the public. And most did take out camera phones to capture 19th century nostalgia. With names like Nina and Bounty, the laggard wind-reliant masts crept the shores till the ships reached, and dropped anchors, at their appropriate destinations. The Eagle, a 295-foot 1800-ton steel sail commissioned by the U.S. military, ended its hour-long journey at Pier 32, where it unloaded its passengers.
The archaic ships from around the world have come with a message. "These magnificent tall ships remind us of how important maritime culture was in …the San Francisco Bay Area," wrote Michael L Meyers, president of the S.F. Maritime National Park Association in a public statement.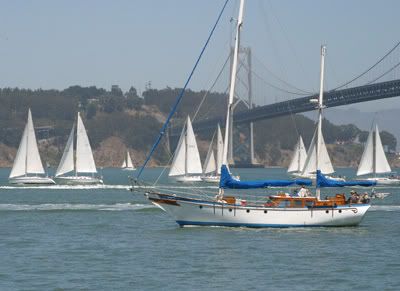 And history will be served. The Chinese Historical Society of America will hold a concert and exhibit, and the German Consulate General will provide a glimpse into the German Emigration during the festival.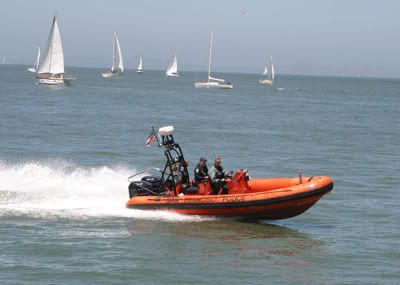 Out on the Embarcadero, tourists and locals stopped to look over the boardwalk to take in the majestic displays. One YMCA counselor and her group of children decided to do lunch on the Piers before the passing ships.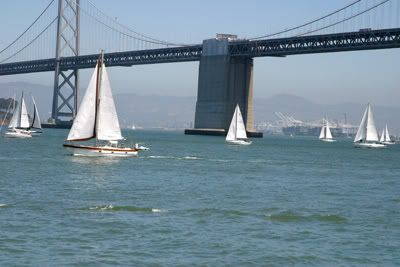 For voyagers young and old -- if pirates and sails are your thing -- you've got till Sunday to stroll by.
By the Way: If you go, bring sunscreen, or you'll end up with a red nose, like me.