(Click the photo for a full S.F. Zine Fest slideshow)
S.F. Zine Fest
SF County Fair Building (Golden Gate Park)
July 19, 2008
Notes and Photos by Edward Paik
A woman knits "kandy-kolored" sleeves for your latest iPod or iPhone across the room from a a curly-haired fellow sketching his rendition of cultural caricatures like Batman and Bart. Between the rows, artists line up to share and browse products made with -gasp, dare we say it?- self-printed ink.
That was Saturday's San Francisco Zine Fest, an annual convention of all things "do-it-yourself," which was so popular last year that event organizers moved it out of the Mission's Women's Building and into Golden Gate Park's County Fair Building for the occasion (giving the expo twice the space). Here exhibitors sold their art without taxing middlemen. The booths were free, the entrance was free and the message was clear: Zine does not need corporate sponsors to be successful.
"[Zine Fest] exploded. It's nice to have a press expo like this, and it's free," said the artist behind Bitter Pie Comix, who wished not to be named.
"Far too long, too many months," said Jonathan Fetter-Vorm, an artist of Two Fine Chaps, on the time he's spent on preparing for the Fest. A second-year returnee, Fetter-Vorm sat behind his handmade pop-ups and hand printed comics where he admitted the money was good.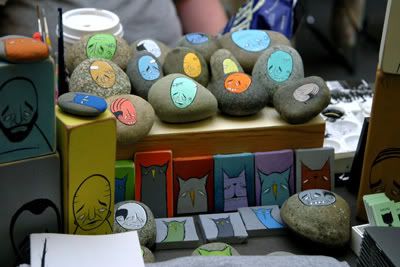 Saturday was so busy that François Vigneault barely had the time to look around. But, the third year organizer of the Fest, Vigneault took a while to define Zine. (Pronounced "Zean.")
"My definition is pretty broad," he said. "It's a small press-produced book or magazine, but I feel the content could be anything. It's completely open to interpretation. You do your own thing."
From pulp fiction to chicken-resembling dolls, anything seemed as if it were zine as long as you did-it-yourself. At one booth, the artist encouraged passersby to become participants, offering then the chance to create their own button art.
Having eliminated the middleman reduced prices as well. On one side of the tables were comic lovers who want to create art, and sell them independently; on the other side were comic lovers who wanted affordable reads without handing over big bucks. You don't get much more symbiotic than that.
"It's for the public. A really good chance for the public to see work that they might not otherwise see." said Vigneault, but the artists take from it as well. "I've exhibited a ton of shows like this and it's always fun to meet everyone."
Exhibiting authors also had the chance to qualify for the "Best American Nonrequired Reading" anthology, the only requirement being that they'd surrender a copy to the cardboard box at the front table. Others had posted signs, "Money or Trade," written on printing paper, some beside their "Mastercard/Visa" signs.
There's an image of Barack Obama's head on a Pez dispenser on Eric Rewitzer's table. The fulltime artist was invited to his first Fest, where he sold vinyl limited editions and offered watercolored works on request.
"Its watercolors," he said, "just like we had in grade school, that's the funnest thing to do."
"I hope we'll be here next year," Vigneault said. "Where else do you get to meet an artist you really like and see their work? It's so rare, and here it's personal."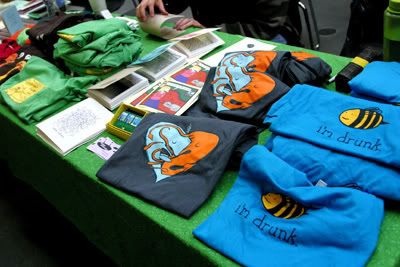 Critic's Notebook:
Random Detail: Anything can be zine. Even philosopher Thomas Paine's "Common Sense" was considered zine work, though it may have been more revolutionary than the works at S.F. Zine Fest.
By the Way: For details on next year's event check at www.sfzinefest.com