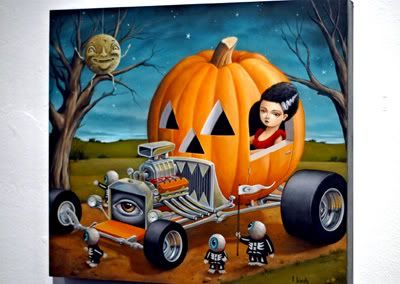 Friday: ASD's Lowbrow Art Sale columnist Josh Geiser took a smelly two hour bus ride from Sonoma to rub elbows with artist Travis Louie and browse pieces by Scott Scheidly, Joe Vaux, Brandt Peters (and Louie, of course) at Gallery 1988's aptly named "Strangely Mannered" show. To fully understand how strangely mannered this one was, you'll have to flip through Josh's photos.
Also on Friday: Alan Mayer and Robin McCall saw Coldplay at the HP Pavilion and tag-teamed an astoundingly thorough review, which, upon reading, you can use to fool your friends into thinking you were actually there. Christopher Victorio took some fabulous photos, frontman Chris Martin channeled both Mick Jagger and the scarecrow from the "Wizard of Oz," and the video projection globes hanging from the ceiling were fancy enough for the Silicon Valley crowd. Read all about that here.
Saturday Night: Jennifer Maerz finds proof of the crashing economy at the vastly under-attended Download Festival at the Shoreline. "I've never seen the Shoreline look like such a ghost town," writes Jennifer. Did the gas, $12 parking and $7 beers kill the crowd? Read Jennifer's speculations, and see Christopher Victorio's photos of Jesus and Mary Chain, Gang of Four and more here.
Saturday Afternoon: There was parking to be had at Golden Gate Park's Speedway Meadows on Saturday, but that didn't mean a pumping party wasn't going on. Folks showed up on every bike imaginable - but whoever dreamed up the bike with shoes is beyond me. See Ariel Soto's photos here.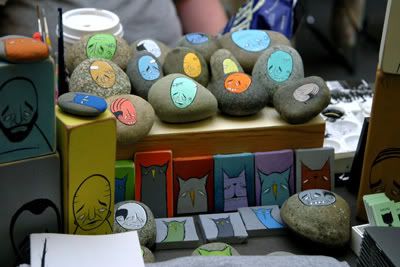 Still More Saturday: The do-it-yourselfers were also at Golden Gate Park Saturday - swapping homemade pet rocks and self-printed booklets at SF Zine Fest. Read Eddie Paik's notes and browse his slides here.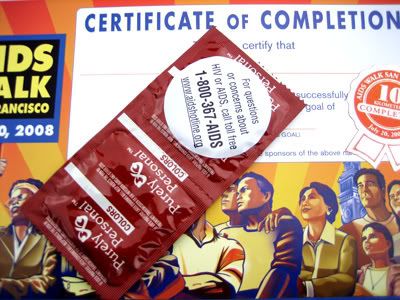 Sunday: Catherine McCulloch joined some 25,000 participants for Sunday's AIDS Walk (incidentally at GG Park as well...). Upon crossing the finish line, she was given a certificate and a bunch of condoms. Photos to follow.
Hope your weekend was dandy (and unlike my own weekend, food-poisoning free.) --Janine Kahn