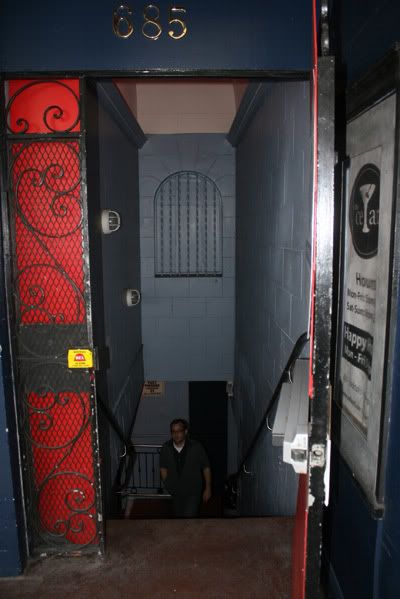 Follow the stairs.
Happy Hour
The Cellar
July 16, 2008
Notes and Photos by Crystal Akins
Better than: Weekend warriors.
Not looking for a weekend rager? The Cellar's happy hour is a nice place for early birds to wind down after work where you'll find food, cheap beers, and maybe a future lover.
At least once a month, The Cellar hosts speed dating sessions where hostess Linda Kong's whistle marked the end of each four minute round. Locals crowded toward the end of the bar to watch men play a game of musical chairs (the women remained stationary), fake smiles and head nods, or maybe the swastikas and cement smileys via "American History X," which played on the flatscreen TVs.
"It's a riot to watch," said Mike Ferell, a regular of nearly 10 years.
The flash on my camera does this place no justice.
Hurry Date hostess, Linda Kong.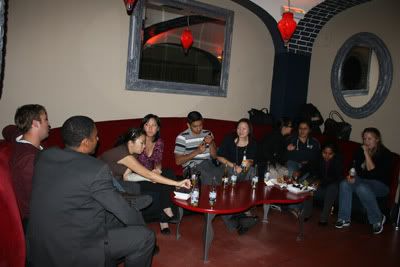 Patrons are welcome to bring their own food to happy hour.
Choose your poison.
This former beer cellar has ample seating for you plus friends where you can bring in food and enjoy $1 beers at 5 p.m. and a dollar more as each hour passes by until 9 p.m. Mixed drinks are two dollars off while their newly added food menu includes nachos, sliders and gourmet olives. This bar could be a nice way to relax or a prelude to another insane night.
New to happy hour, the food menu.
Free pool!
But what happy hour doesn't have drink specials and food? Why should you care? Three words: root beer vodka. The Cellar is one of only a few bars in the city offering you a shot of root beer flavored vodka. This shot will either remind you of root beer floats or be your demise. Drink responsibly.
The Cellar welcomes guide dogs.
Happy hour hierarchy of prices.
Overall, The Cellar's casual atmosphere is worth stopping by on the walk home if you're in the Downtown area.
Linda Kong prompting Hurry Daters to swap tables.
For $8, this hearty plate of nachos can be yours.
Let the games begin!
Bartender.
Do's and Don'ts:
DO grab a pizza from across the street and bring it in with some friends.
DON'T trip on the stairs coming down-- it's a long way down and poorly lit.
Stop scrounging for change, it's free.
"American History X" played during the speed dating session.
The placement of the doors felt off.
Still enough time to get home before sunset.
Critic's Notebook:
Personal Bias: I am absolutely fascinated by speed dating.
Random Detail: Guide dogs are welcome.
By the Way: Happy hour is Monday thru Friday from 5-9 p.m. and located on Sutter and Taylor Streets.
Happy hour ends at 9.