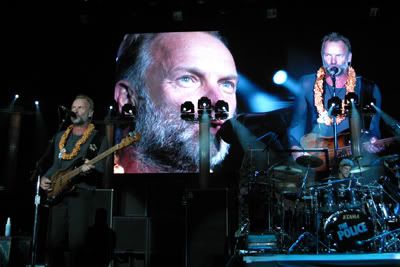 The Police w/ Elvis Costello and the Imposters
Shoreline Amphitheatre
June 14, 2008
Review and Photos by Edward Paik
Better Than: Trekking through the sprinkler systems after the show on the way to your car.
Every fan knows that The Police have spent much of the past two decades in quarrel. The trio's got wrinkles for time that's passed since they've last played together. So was there any surprise when drummer Steward Copeland admitted at the start of their world tour last year - a first since 1986 - that his band gave a "lame" performance? Was rusty as hell? Add a couple months for the trio to get in sync, then a few more for them to come to town and imagine how long the local fanbase has waited. But The Police have patient fans.
A sold-out crowd with close to 22,000 mid-lifers ponied up to $200 to see the band Monday night at the Shoreline Ampitheatre. Ticket prices were probably a drop in the bucket for a good portion of those in attendance, who held more bottles of overpriced Sterling and Acacia wine in their hands than Coronas or Cokes.
Nostalgia was rampant and oh was it ever capitalized upon - shirts with the band's 80s image were up for grabs ($35), as were vintage lawn towels ($15), Sting's autobiography and a compilation of the Police's greatest hits.
One passing fan recalled, "I've had this [Police] shirt since the 1980s."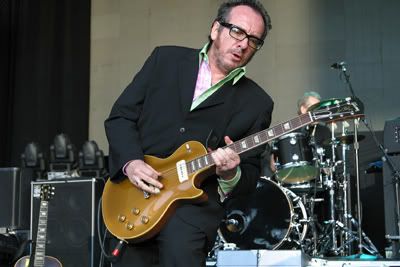 But the stage held a new story, where Elvis Costello and the Imposters brought rock n' roll to a crescendo before The Police had their chance. Costello ground a Gold-Top Gibson and other electric guitars to songs from his new album "Momofuku." It's somewhat surprising how the man who opened for Bob Dylan in Syracuse, NY ten months ago with only acoustic sets could spit out "American Gangster Time" with renewed energy. Empowered, Costello raised both hands and waved his fingers as if a pastor in prayer, and the crowd responded like television evangelicals.
Costello was two more hours of wait for the fashionably late crowd. Sting gave those who did show early a tease, strolling on stage with a salute for the second verse of Costello's "Alison" to perform a duet. The crowd rose as Sting took the mic, Costello the guitar. But all too soon, the Police man returned backstage.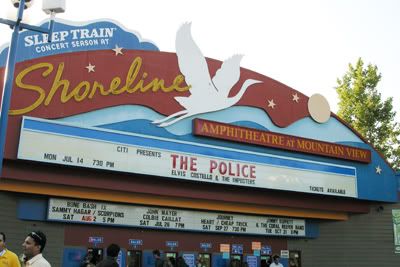 By now, a full house is waiting when the stage turns black. Copeland appears alone in white gloves and headband to strike a gong. Finally. A year's worth of practice since the reunion began becomes apparent. "Message In A Bottle" immediately strikes a chord to begin two hours of fulfillment.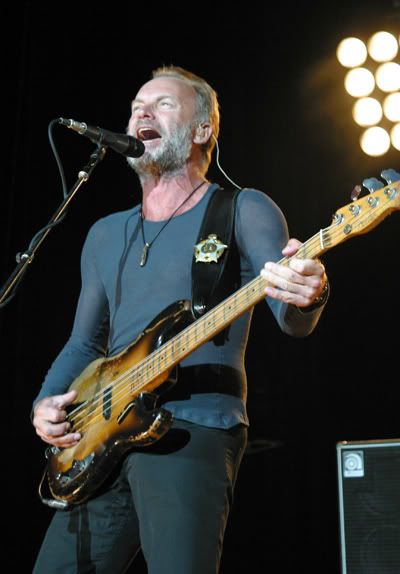 Nevertheless, time shows. Even the pretty boy's lost his blond hair and youthful voice. Sting now sports a scruffy, peppered beard with a smile to woo middle-aged women seeking adulterous adventures. And the patience is worth the wait, after all, this isn't the old Police, it's better.
"Don't Stand So Close To Me" is one of the great hits sped up at times to provide a newfound beat, but slowed elsewhere to accent Sting's lyrics. The crowd claps in unison. If there's one thing that hasn't changed it's Sting way with the audience, and he steps down stage right and left to give high-fives. He's still the centerpiece to the band, the center of attention, but every member showed their chops.
Copeland starts "Every Little Thing She Does Is Magic" with a percussion solo, effortlessly tossing the sticks for his drum set. Marijuana smoke wafts down the seats. When Sting repeats his refrain: "Magic, magic…" amidst the multicolored strobe lights that douse both audience and band, it couldn't seem like anything else.
In the first of two encores, guitarist Andy Summers stole the spotlight with a solo for "So Lonely" that traversed his fret board for over a minute. Summers had carried the concert twith his funk rhythm and Sting's lack of bass.
A band this strong didn't need the overused light gimmick -- that was a technical flaw. Everything else was near perfect. As the three were strewn across an epic overhead screen a flashback took the band through its years, rewinding back to the beginning. The montage ended in color with the image of Copeland's snare drum donning the name that's kept fans waiting: "The Police."
Critic's Notebook:
Personal Bias: California: Where you preach about global warming to the friends beside you, then proceed to leave your empty wine bottle below your seat as you exit.
Random Detail: Another example of patience? The two hours that the crowd stood during The Police's performance.
By the Way: If you missed it, you've got a second chance. The Police and Elvis Costello will be back in concert Wednesday, July 16, at the Sleep Train Pavilion in Concord.