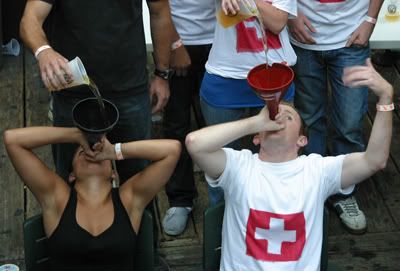 Last Night: S.F. Bierfest
The EndUp (6th St.)
July 12, 2008
Notes and Photos by Edward Paik
Better Than: Designated driving.
Grab a beer and grasp your mug, thou sad and sober masses. Bierfest has emerged -- from the underground, the fraternities and films -- to douse San Francisco in a premature summer "Olympic" event.
Inspired by the 2006 comedy "Beerfest," the premise is a drinking competition, but that isn't what makes it "Olympic." "It's the variety of games, multiples teams," says Brittnee Jones, co-organizer of the S.F. event.
With its series of competitive drinking events -- Flip Cup, Beirut, Boat Race, Longboard and a Boot Chug – it has drawn out faux countries from around the globe. From Netherlands, to Constantinople and Douchebagistan, they're all here, but like any other major event there's a wait.
Athletes, trained and trash talking, lined the sidewalk of The EndUp half an hour before the games. In the street, the same San Francisco Police Department van has passed the corner of Harrison and 6th twice now, the post-college crowd drawing the officer's glare both times.
No worries. The second bi-annual S.F. Bierfest has learned from past errors. "It's better organized," said Jones, who admitted that early intoxication and the lack of kegs led to some trouble last time around.
Let's hope so. This crowd is starting to yell obscenities while hoping to get drunk before sunset.
A participant on the streets does the math in preparation for her competition. "What's 16 times six?" she asks a friend while solving the equation with a finger in midair. "Ninety-six," she answers herself. "That means there'll be 96 people."
Not quite. Only fourteen teams of six have made it, waiting to hand over their $20 bills in exchange for an all-you-can-drink opportunity. Every moment becomes a chance to get your money's worth, and the clock keeps ticking.
2:17 p.m.
It's never too early to drink.
"They didn't open at 2, they opened late," said Hoa Ngyuen, of team Mexico, now sitting amongst his teammates on a platform in the EndUp. "That's a problem."
Team Mexico has waited since last Tuesday. They know what they're here for; "Beer!" and they know what they want; "Domination."
Having studied both beirut and the "Beerfest" film, Mexico wants to show its national pride despite the fact only 50 percent of the team is of Hispanic origin. That doesn't matter, as long as they get what they came here for.
The team captain heads over to the bar to start a pre-game rally comes back with a shot of whiskey in his right and a Heineken in his left.
"He's a great drinker," a teammate remarks.
3:21 p.m.
Bierfest is all about numbers. How many cups remain? Who's sober? The minutes, the missed attempts.
"If you haven't found your number for your team, look at the board," says Jones on a mic, as she prepares to announce team and table by number.
Three people are still looking for a team. Others in uniforms, headbands, wigs and national flags wait.
The rules are simple. Bierfest will offer three rounds of heavy drinking, no elimination. Instead, two teams with the most wins -- the most points -- by the end will go head-to-head, but that's hours away. Now is all about flip cup.
No elusive "one flips" are managed by Switzerland's opponent, as they pull away with their first victory. On the other six tables, flips come down to final seconds. Even after pulling off five consecutive "one flips," when Mexico's team leader fails convert on two attempts the team suffers a loss.
The rounds go by. Handshakes add up, and the losers add up.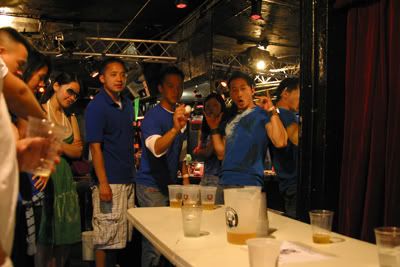 4:24 p.m.
These judges must be intoxicated. Nothing's objective, perhaps their refilled mugs have affected decisions.
And complaints keep coming. About cheating, the rules and overly close calls. But after three matches, team 3 (Douchebagistan) and team 12 (Antarctic) lead the pack with four points each.
The hamburgers and hot dogs make their way to the backyard grill. "Helps with regurgitation," says Jones. Vomit hasn't been a problem just yet.
Judgment, on the other hand, takes a turn. Joon Yi's teammate lines up to throw the first ping pong ball from behind the six Spaten -- who sponsored nearly everything from the eight kegs, the mugs and decor -- coasters on the ground.
"As long as you're sober [it's ok]," says Yi, on maintaining skill. "Because if you're inebriated it's out."
Teammate Anthony Phung misses.
Outside, Jason Owen, 26, of Mustache-akistan aims his shot from behind his beer goggles for a chance to lead. The ball bounces in, bounces out. Ref rules out.
Owen's not much for talking, but he takes his goggles and chucks it at a Swiss player.
"Bullshit," a teammate says.
5:59 p.m.
Thomas Murray keeps drinking, but his shot isn't getting any better.
The myth's usually true to him, he says. "Just not this round."
Nope. His partner has carried his weight through 18 back-and-forth ping-pong tosses. In fact, Daisy Alatorre has made three consecutive rebuttals to keep him and the team alive.
The myth's not holding up elsewhere. Between the sticky floors, the oooohs and yeahs, teams aren't getting better the more they drink. Even judges have taken a seat during these extended matches as they go on and on.
Yet, Murray and his partner keep trying. A woman on the adjacent table remarks, "I think I'm sober now. I can see."
Still takes forever.
To the cast away look-a-like from the Swiss team, no matter how many times you yell "Money!!!" this shit isn't ending anytime soon.
6:23 p.m.
Lady: "How old are you?"
Me: "I'm 19."
"Nineteen! That's so young… Are you having fun?"
"No."
"Why not?"
"I would be if I were drunk."
"Then why don't you drink?"
"I don't want to get kicked out."
"I've had a few drinks."
"…"
"You're kind of being a sore thumb."
"I'm sorry."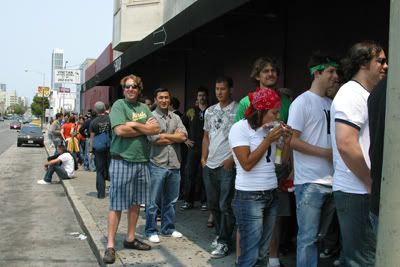 7:43 p.m.
The crowd is so intoxicated it can barely hear Jones' request to collect.
But they'll keep drinking. At the announcement of the semi-final round, they finally gather in the backyard of The EndUp.
For those remaining, alcohol is forced down the throat as part of Longboarding, where a teammate pours a cup of beer onto a funnel cupped by another's lips.
"Here's where things get messy," says a passing security guard.
A member of the Swiss team manages to hold it in for mere seconds before throwing up. But Douchebagistan and Antartica, still leading after three rounds, have made it. The finals: A 2-litter Boot Chug, courtesy of a custom made glass boot.
Jay McCall of Antarctica remembers taking the boot from last year, when his team pulled away with the first Bierfest. Though optimistic he doesn't want to be too sure.
"There is some strategy, but more superstition. I think any sporting event would have superstition surrounding it," said Jones.
McCall knocks on wood. A Douchebag farts. Four teammates from either team have lined up, McCall at the end of Antarctica's, and as Jones lifts her hand from the boots chugging commences.
Like the year before, McCall's going for half the boot by himself. "Win it all fast, win it no matter how much it hurts," he said.
From the bottom of the empty boot you can see the pain on McCall's face, but he will say that it was worth every penny. "We won in a pay off contest by drinking till the end, at least $50 to $60 worth of beer," he said.
Congrats, Antarctica. See you next year.
Spencer Johnson, the other co-organizer, asks for a final time: "If anyone would like to challenge the champions…"
"Fuck off," says a passerby. The rest just keep on drinking.
Critic's Notebook:
Personal Bias: Underage drinking is real bad. Watching beirut (not "beer pong") without drinking is pointless. "Sore thumb" lady, call me.
Random Detail: Spencer Johnson came up with the idea for the event alongside best friend Brittnee Jones. The two are currently students: Johnson an MBA at University of California Davis and Jones a biochemistry PHD at UC San Francisco.
By the Way: The next S.F. Bierfest will take place this coming November with more teams, said Jones.