Good morning, San Francisco. You were probably away from the computer screen for most of the three-day weekend (judging from the atrocious clog at the toll booths before the Bay Bridge, which we ran into on the way back from the Alameda flea market on Sunday), so here's what you missed:
Friday was a sad night for San Franciscans eager to see the fireworks over the bay. We drove up and down the north's steepest hills (almost running over families and packs of kids with suspicious-looking red plastic cups in hand) blasting the Sisters of Mercy through our speakers and ended up next to a good number of people in blankets at the top of Jones Street. But the magical display promised us was swallowed by the thick layers of fog, and all we got for our pains was the somewhat apocalyptic sound of the fireworks going off and muted colors filling the sky. I guess we shouldn't have been surprised...but still: boo.
Our Crystal Akins knew better and spent the eve of the 4th at the Knockout for the club's 90s party, Debaser.
"Drunken debauchery filled the dance floor as people jived and collapsed, bringing nearly the entire crowd down in front of the DJ booth but all in good times. If anyone knows how to have fun, it's these kids. (Not to mention the intoxicated blonde who felt compelled to show us her tits every five minutes or the dude sweating and dancing like a maniac in his leather jacket.)" Crystal reports.
Read her entire club night review (we run one weekly on varying nights here at ASD) and see photos of drunk pretty people here.
Speaking of drunk pretty people, Gretchen Robinette spent Friday chasing cute chicks in knee-high socks and strange men in tights around on tricycles with her camera outside Pop's Bar. Photos. Write-up.
On Saturday, Gretchen braved the $12 cover and shot Cafe Cocomo's "Streets of Gold."
"The event was open to all ages but alcohol could only be consumed on the top floor, so the stage crowd was limited to the under-aged and hungover fans. If Cafe Cocomo wasn't down on Indiana Street, far off of the regular bus lines, more people could have seen some great local artists and hip-hop...and lounged on the great sunny upper deck in between sets," writes Gretchen.
Read the rest here, and do flip through her slideshow.
Early Sunday morning, I joined Antiques By The Bay veteran Meredith Brody for some bargain-hunting in Alameda and was completely floored by the vast bazaar and equally vast parking lot. We ran into the Weekly's lovely former editorial assistant Frances Reade and bought things we'll never need - though that rhinestone fishbowl filled with turquoise quail eggs does look lovely on the coffee table.
Also on Sunday, our Catherine McCulloch waltzed up and down Fillmore for the annual Jazz festival. It was more festival than Jazz, she reports.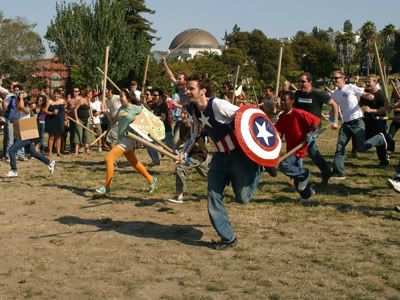 Meanwhile, over at Dolores Park, Eddie Paik witnessed a cardboard tube war. A 10-year-old won a huge cardboard mallet, and adults dressed up as samurai and Captain America faced off. Cool photos in Eddie's reporter's notebook.
We wrapped up the weekend with Rob Riggle at Cobb's Comedy Club. The Daily Show's war correspondent was good but really not quite as witty as the two local comics (Nico Santos and Joe Klocek) who warmed the crowd up for him. Full review here.--Janine Kahn