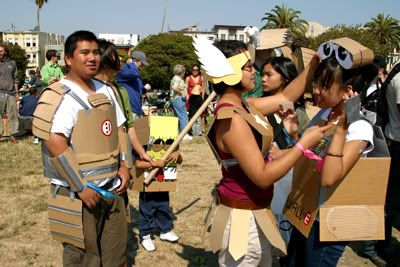 Cardboard Tube Fighting League Battle
Dolores Park
July 6, 2008
Notes and Photos by Edward Paik
Better Than: What's better than the hint of orange from your bottle of Blue Moon ale? The security that comes from a cardboard stick to make sure no one gets too close.
The cardboard knight strikes a pose, his prize cuffed in a fist and swung over his shoulder. He preens, then walks over to his mother and mumbles "I'm going to die. My stick is broken, and somehow I just pulled through."
You've earned it, Hank Moseley. You're a champ. But it never crossed Moseley's 10-year-old mind, that after five rounds of tube-to-tube combat he'd sit atop the board as winner of the children's cardboard tube fight Sunday at Dolores Park.
"I expected three rounds at the most," he said shortly after his final bout. Most thought he was done when his stick went limp in the first few minutes of the finale, but he stuck with it and soon enough, his opponent's aggression and his stubborn defense sent half of the other tube flying.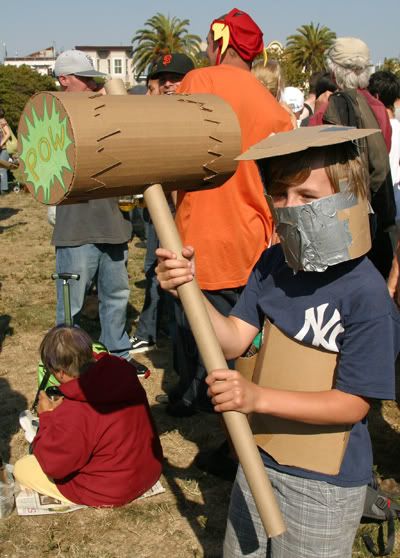 Moseley doesn't remember much. But an hour before the second Cardboard Tube Fighting League Battle took place he could recall how he got involved. "My mom told me about it," he tried to annunciate from behind the cardboard helmet taped to his face. "It sounded really fun so I went: 'I want to go! I want to go! I'm going! I'm going!"
Listening to mom paid off. "It was worth it," he said, having won Mario's cardboard mallet (from "Donkey Kong") -- first prize for the children. But Sunday at the Park wasn't all child's play.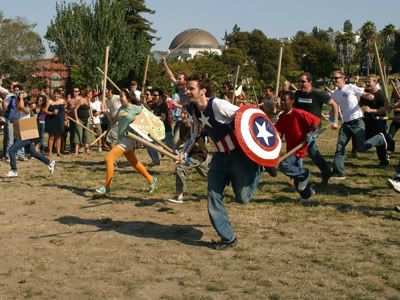 "The main goal is to have people out here and having them play, especially adults," said Robert Easley, founder of the Cardboard Tube Fighting League (CTFL). "It's just like all those stories of wailing on each other with cardboard tubes when we were kids."
Easley, a Seattle native, first revived and relived his childhood in his home state last year, and has since carried the nostalgic pastime worldwide.
Sydney, Australia, Seattle, San Francisco -- they've all become branches for the League, each location a place for it's own competitions.
The fight gives grown men and women a chance to flaunt their cardboard prowess, Easley said. Others collect to show their costume's creativity -- and show up dressed as cultural icons such as SpongeBob, Wall-E, Optimus Prime, the Ninja Turtles. Others use their cardboard in historic tributes: depicting feudal samurai, Spartans, dinosaurs and medieval jockeys.
Bryon Spencer, 23, just happened to be at the Embarcadero last year when he came across the first cardboard fight in San Francisco at the Justin Herman Plaza. Now he's a regular, attending every Bay Area fight since.
"It isn't about winning or losing," said Spencer, in a homemade Captain America uniform. "It's about having a good time, seeing other costumes, seeing common faces."
Anything to relive the nostalgia of when he used to duel with cardboard swords with his brother.
"Hopefully they give you something to hit with, or you're going to get hit," said a voice from behind the crowd before the adult competition. But with a sheathed stock of regulation cardboard tubes, Easley had more than enough for the nearly 80 people who gathered.
Split into two teams - pink and blue - the adults, and some kids, congregated for a battle royal, like a scaled version of the film "300." When one yells, "No mercy!" the translation becomes literal. Bruises and welts were a common sight at the end of the day.
When the dust settled, Easley and his blue-mates took first. But it was perhaps Easley's last victory.
"I've reached the end of it for me," he said. "I may be ready to move on to a newer project. I may be retiring."
Someone may pick up the torch, but word is, this is it. But Easley's going out on top, a cardboard samurai holding the remains of broken sticks, his pride evident in a subtle smile.
He takes his time, picks up the final pieces and yells, "Clean up!"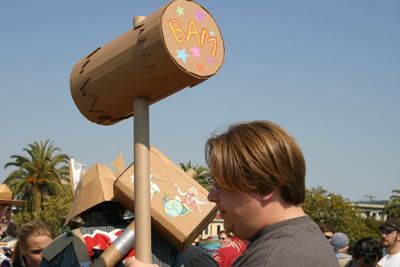 Critic's Notebook:
Personal Bias: There were close calls with cardboard contact while this cautious writer worked the camera.
Random Detail: To the medieval horse jockey from the pink team who fell on enemy territory and got spanked: too bad, but thanks for the laughs.
By the Way: Cardboard Tube Fighting League does exist. Though large scale fights, like the one this past Sunday, may never happen in San Francisco again there are "underground" bouts if you're interested. Check out Tubeduel.com