Undisputed Champions [Bored of the Rings]
Muse Photo Studio (6th St.)
July 5, 2008
Notes and Photos by Edward Paik
Icons clutter the frames of duo Hella More Funner's art. The two say they are little contradictions, a remix of pixels assembling fragments of a larger, candy-coated work of art. Take their word for it -- underneath the bigger picture lie millions of clues pointing toward hazards of capitalism and popular culture. Seemingly clean and urban from afar, but cautionary tales up close.
It's how they've envisioned it. "Pop culture is absolutely ridiculous," says Adam Gray, of Hella More Funner standing beside partner Sam Fuchs. So it's perfect that their retrospective, being displayed at the Muse Photo Studio, is all about the critical aspects of our culture from the bling to the drugs and the grillz.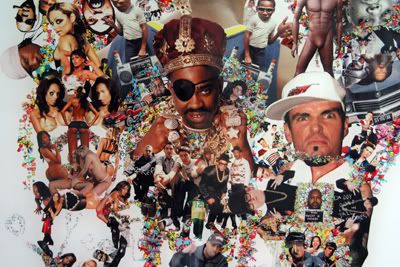 A contemporary spin on the pointillism of Georges Seurat -- famous artist of "Sunday in the Park" -- and pop arts of Roy Lichtenstein, the artists have traded simple dots for digitally rendered icons. At a distance "Undisputed Champions [Bored of the Rings]" exhibits large abstract images that are wholesome and happy - until you stand inches from the frame and see the darker, more intricate details.
"Lucha Libre" contains a dense collection of icons depicting Lucha masks, stars and Cadillac symbols pulled together to create the portrait of a masked wrestler. In other words, the blown-up image is the sum of all its cultural parts that, to the pair, are none other than those of consumerism and hypocrisy. The scribbled words on "Call Me When You Break" -- that lay above the squirting details of needles, sunglasses, weeds, drugs and Japanese ganguro girls pouring from the top of an injected needle -- reads: "Take drugs/Accomplish your dream."
The digital medium allows the artists to get straight to the point, said Fuchs, whereas other artists are unnecessarily emotional. "The art speaks for itself," he says, because digital art is suppressed in its essence. So instead of messages hidden within brush strokes, the computer icons that range from mere centimeters and upward are explanations in themselves.
Holographic works display what the pair can find through technology -- one holographic image is an untouched pic of a woman's face that got fried on Fuchs' computer hard drive. Literal transformations, a floating politician in a suit of leaves can turn into a man with the head of a horse with two steps to the right. Yes, it gets political too.
Behind the presidential faces of Mount Rushmore are pieces of advertisement, from your Coca-Cola logos to those of McDonalds. Yet, the consumer aspect of "USA" remains entrenched with patriotism, larger images of peace, of the Statute of Liberty and American fighter jets. As if the duo were celebrating the corruption they have meant to criticize.
"It's mainly what we're going for," said Fuchs, which is the irony of trying to believe in the system. "It goes back on itself."
Who knew that Lil Wayne could spit out the history of rap music with just his mic? The artwork is a scrutinizing collage of porn stars, golden chains, pit bulls and a plastic, penis-less doll of R. Kelly all floating upward like a family tree, but Funner has Jay-Z rapping from their iPod to the gallery's speakers.
But the pair is only delving into themes they enjoy, both dressed in the latest urban fashion and selling urban T-shirts beside their artwork. The illusions on your perception -- the fusion of pop culture -- come down to being simple works of awareness.
"User" reads beneath skulls and prescription bottles, "My anti-drug/is unprotected/sex with strangers/and stealing cars/and break dancing."
Critic's Notebook:
Personal Bias: Lil Wayne can't sing.
Random Detail: On one of the T-shirts, pinned to the wall on its hanger, is the image of former-San Francisco Giant Barry Bonds crucified on a stake, the word "Martyr" written above his head.
By the Way: For more of the duo's artwork and information check out Hellamorefunner.com.