Gavin Really Wants Me
The Purple Onion (140 Columbus Ave.)
July 3, 2008
Notes and Photos by Edward Paik
Better Than: Top view of Gavin Newsom's greased, slick hair from the second-floor balcony of City Hall's rotunda.
She knows she's got them as she stutters on stage, faux-timid and shy. But between the "uhs" and the "ums" is a comic as bold as love, just don't tell her that her "dream boy," San Francisco's Mayor Gavin Newsom, isn't coming.
"I've got really big butterflies in my stomach right now," said Mary Van Note, her first words on The Purple Onion stage as host for the premiere of "Gavin Really Wants Me." "Usually, I tell jokes with punch-lines."
But Thursday night wasn't the time for Note's stand-up acts. "I love Gavin Newsom," she announced. "He's been a crush of mine for a long time."
Try 24 years, her age to be exact. The cutouts of Newsom's face glued on construction paper hearts, the love letter, the red and pink balloons and a box of year-old Trader Joe's candy cane "Jo Jo's" from last Christmas -- anniversary gifts. "Because that's how long I've loved him," she says.
So to profess her love, Note started filming a web series for the Independent Film Channel (IFC) in April and made it all about Newsom, with each episode chronicling her attempts to win the pretty boy Mayor's heart.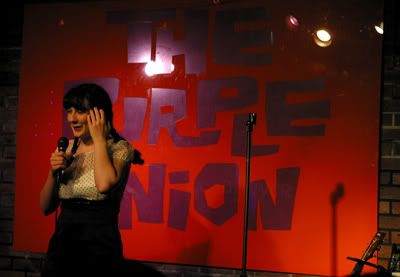 "I've never made videos like this before. It's quite a production," said Note. And from the experience, she's learned quite a bit - from politics to how to make conversation. "And, ugh, I just love him even more."
Her breathing gets heavier. "Gavin Newsom is going to be here tonight, he's on the guest list. He's just not here yet," says Note. Meanwhile, the mic is passed on to other performers and comics who have helped create her new series.
The show's premiere took its slightly edgy humor onstage, and everyone from the series' writer to its musician made an appearance. Matt Montgomery opened the acts with songs "Get That Out Of My Ass" and "Sunny Day In Gotham," the show's theme tune.
The acts delved into relationships with stand-up comedians like Max Curry stating his problems. How he once had a girlfriend who wanted to get pregnant -- and poked pins in his condom while it was on. Another comedian, Alex Koll (who we recently saw at the US Air Guitar Championships) said, "Romance is pretty simple, you've got to know what you're doing."
Not so for Ms. Note. Though her series is essentially a manual on how-to-get Newsom, nothing comes easy for her character, just more strange. In the series fifth episode, "Boyfriend," she decides the best path toward the Mayor is through jealousy so she seeks a "part-time" boyfriend through Craigslist. In another episode, her obsession leads to powdering cocaine on her face on the front steps of City Hall. Funny? Yeah, but nonetheless absurd.
"Gavin Really Wants Me" also weaves the San Francisco experience into the story, casting Moshe Kasher as her gay sidekick -- though he provides more homosexual stereotype than guidance to Note.
Bottom line, everything relies on Note's ability to convince her crowd that this obsession with Newsom is real, and it is. Well, I'm sold.
"Gavin told me he couldn't make it tonight," said Note to end her show. "But we're going to get ice cream later."
Critic's Notebook:
Personal Bias: Kevin Camia was the night's highlight, though his act had more to do with "dual-penises" than Mary Van Note's obsession.
Random Detail: Note has had two crushes since an early age, one being Macaulay Culkin the other Newsom. "He's just a stud," she said, who may also give her the opportunity to be first lady of the state should Newsom become California's next governor.
By the Way: Note's web series premieres on July 7 on IFC.com, with one episode made available daily. Note will also perform "Comedy, Darling!" on August 6.