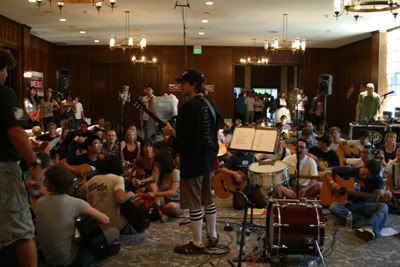 Weezer's Hootenanny
Alameda Naval Air Station
June 20, 2008
Notes and Photos by Edward Paik
Way Better Than: Listening to Weezer in your car.
Download: "Troublemaker" off Weezer's latest album.
Nearly in disguise behind a black Weezer cap and a chevron mustache reminiscent of an 80s Burt Reynolds, front man Rivers Cuomo lurks at the back of the banquet hall - sitting, waiting, watching. Impatience written Cuomo's face says he's ready to go.
So once the some-200 fans settle into the former Alameda Naval Air Station, Cuomo wastes no time grabbing the microphone.
"Welcome to the Hootenanny," he sings.
The crowd at his feet roars.
The group shuffled in around 7:30 p.m., clutching flutes, clarinets, trumpets, snare drums, cymbals, drum sticks, rain sticks and plastic wheezing toys. The vast collection of instruments appear to give Cuomo a slight expression of satisfaction, perhaps insurance that this hootenanny will indeed be well, a hootenanny.
A part of Weezer's five-city "Hootenanny Tour," Friday's event and recording session revived a forgotten tradition from five decades ago when singers and musicians would gather simply to jam.
"It was my mom's idea," said Cuomo, who heard stories about hootenannies his mother used to attend in college.
Pulled together within a week's notice by the folks at Live105, fans for the event were chosen through YouTube submissions that showed their mad hootenanny skillz.
Stephan Lai got word of the event through a Live105 Activist e-mail and informed the rest of his band, The Little Bitches.
A San Francisco tribute band to Weezer, the trio stood on the sidewalk in Alameda leaning on their scratched-up guitar cases well before the rest of the winning participants arrived.
"We said, 'If they don't let a San Francisco-based tribute band in we must really suck,'" said Paul Gutierrez, a band mate, with laughter.
Named after a Cuomo quote that stated that all fans were little bitches, the title seemed appropriate for a band intoxicated during its inauguration.
The Bitches' entry to the Hootenanny included two YouTube medleys of three songs each, plus one other song to come to a total of seven -- six songs above the requirement.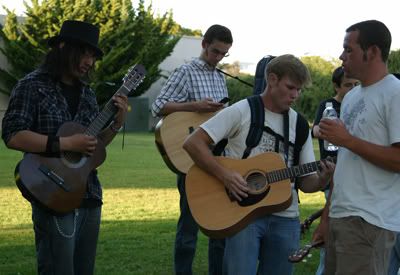 But overdoing things seemed to be a running theme.
Though the event's rules stated one instrument per person, the Bitches waited in near 100-degree weather with three guitars, an alto-horn, a melodica, a harmonica and what Gutierrez could only describe as the Vietnamese version of a Jewish harp.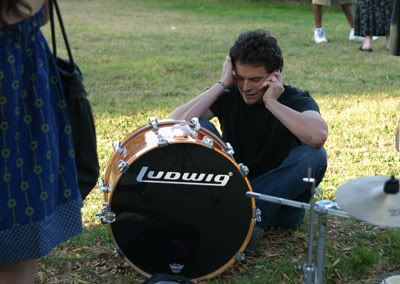 And they weren't the only ones. Multi-instrumentalists settled into the intimate banquet hall, a sauna by the end of the session, with cases and bags holding nearly anything that would make a sound -- even a Rock Band video game drum set controller.
Managing to settle on the floral carpet near Cuomo's feet, the Little Bitches, Weezer and the rest of the hootenanny crew wasted no time.
"You're now members of Weezer along with us," said Scott Shriner, Weezer's bassist.
With assistance and advice from the band, fans performed Weezer's latest single, "Pork and Beans," as well as "Say It Ain't So," "El Scorcho" and "Beverly Hills."
For Shriner, the Alameda Naval Air Station induced nostalgic emotions for the former Marine once stationed there. He credited a Major Donovan for letting him "go home and play bass," before dedicating the cover of Radiohead's "Creep."
One man in an Anthrax "I Am The Law" T-shirt performed many a solo with his harmonica. The rain sticks, a six-man quartet and organ provided a unique touch to Weezer's tastes.
After a much longer session than anticipated, third member of the Little Bitches Eli Manjarrez reached back for his guitar before stepping out of the sweltering and un-air conditioned hall with one word to sum up his experience - "Cool."
Critic's Notebook:
Personal Bias: Weezer's first single, "Undone -- The Sweater Song" was part of the audio landscape for this writer back in middle school.
Random Detail: Weezer drummer Patrick Wilson wasn't at the Hootenanny due to a minor knee injury that required surgery, according to the band's bassist Scott Shriner. Wilson will be rejoining the band for their fall tour.
By the Way: The Weezer's Hootenanny is headed to Los Angeles on Monday, after having already been to Pheonix, Portland, San Francisco and Seattle. The hootenannies were recorded and will be compiled into a tour CD, according to Cuomo.